Gold star medals, Ho Chi Minh medals, Independent medals and other awards were bestowed by President Nguyen Minh Triet to generals and senior military officers to mark the 64th anniversary of the August Revolution (August 19, 1945) on Wednesday in Hanoi. The medals were also awarded posthumously to those who had sacrificed their lives for the independence and freedom of the country.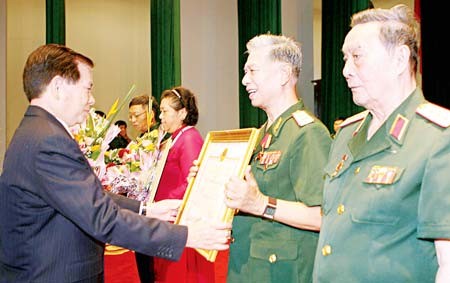 President Nguyen Minh Triet (L) bestows medals to generals
Addressing the awarding ceremony, President Triet said that the medals are noble awards conferred, by the Party and Government, to generals and senior military officers who had taken part in the first days of the general uprising in August 1949 to acknowledge their significant and excellent contribution to the cause of national liberation.

Some had sacrificed their lives at the beginning of the war against French domination, while others fought through the two national liberation wars and witnessed the day the country achieved unification.

Such heroes, said the President, have always placed the common interests of the Party, revolutionary career, people and army above personal interests. They have tried their best to overcome challenges, hardships and obstacles to fulfill their tasks assigned by the Party, army and people.

The President emphasized that the Party, Government and people always put their trust in them and their families and believe that they will continue to hold fast to the revolutionary tradition and bring it into play to set a shinning example to younger generations to follow.

Mr. Triet recommended that to keep the political situation stable and defend the socialist ideology while the country is on its way to renovation and development, the important tasks of all military officers at present are to consolidate the strength of the nation and ready to crush any hostile forces.

Some among those who were bestowed the medals were Senior Lieutenant General Tran Van Quang, former deputy Minister of Defense; Lieutenant General Dang Quan Thuy, former deputy chairman of the National Assembly, and the late Major General Nguyen Son (also known as Vu Nguyen Bac), former secretary of inter-region Party 4.

In related news, a police museum was opened by President Triet in the morning of the same day in Hanoi to mark the 64th anniversary of the August Revolution, the 64th anniversary of the establishment of the Police of Vietnam and the Independence Day (September 2).

The museum displays more than 400 materials and artifacts demonstrating the establishment and development of the Vietnamese police force.