The judiciary should continue with its reforms to enhance quality and ensure proper enforcement of the law, President Nguyen Minh Triet has said.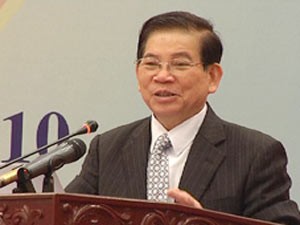 President Nguyen Minh Triet told the judiciary at a conference January 25 to step up reforms (Photo: Nhan Dan)

Speaking at a judicial conference convened by the Supreme People's Court in Hanoi on January 25 to discuss its tasks for 2010, the President praised the judicial sector for successfully implementing a Party Politburo resolution on reform.

"The judiciary made efforts to streamline judicial procedures, give more power to district-level courts, and improve its officials' qualifications," he said.
However, there are still weaknesses to overcome, including poor quality of verdicts as a result of which many have to be amended or revoked, he said.

The sector also faces a serious personnel shortage, especially in the Central Highlands and southern provinces and cities, which is slowing down the progress of trials, he said.

He emphasized that the most basic duty of courts is to try the right people and hand down the right sentences and not let any crime go unpunished or punish innocent people.

For that purpose, courts must speed up the process of juridical reform, train their staff in both professional skills and ethics, strengthen investigation and supervision, and correct shortcomings promptly and effectively, he said.

The judiciary must launch movements to promote public-spiritedness and selflessness among its staff and operate in the spirit of listening to the people, understanding them, and helping them, he said.
Dr. Dang Quang Phuong, deputy chief justice of the Supreme People's Court, promised the judiciary would properly resolve both criminal and civil cases with a focus on inspection and conciliation.

In 2009 it dealt with more than 274,000 cases in a just and lawful manner, he said, adding it would continue with its reforms in line with the resolutions of the Party and National Assembly.
At the conference, the President conferred the Labor Order, Second and Third Class, respectively on the court's deputy tribunal presidents Bui Ngoc Hoa and Tu Van Nhu.