Speaking to the Viet Nam Red Cross (VRC) Central Committee in Ha Noi on April 11, President Tran Duc Luong, who is also honorary President of the VRC, urged the association to actively mobilise international organisations to provide timely supplies for Vietnamese AO victims.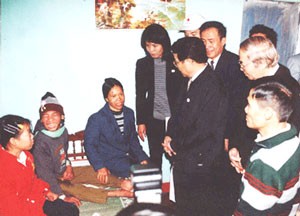 President Tran Duc Luong visits an AO victim family
The leader expressed his pleasure at the association's achievements in caring for the poor and assisting people in misfortune. He praised the association's effective activities, involving people of all walks of life in caring for the poor.
He asked Party organisations and authorities at all levels to pay more attention to developing the red cross movement throughout the country.
VRC President Nguyen Van Thuong reported to President Luong on the association's activities and achievements. The association, with 171 staff members working at the central level and 5 million members and volunteers nationwide, has expanded its network to all communes. Its activities focus on upholding the national spirit of mutual assistance and helping the poor and underprivileged people to integrate into communities.
The association has continually increased its funding, raising an average of 17.8 billion VND per year in 1991-1995, 40.4 billion per year in 1996-99, 86 billion per year in 200-2005, 127 billion in 2005 and 135 billion in just the first quarter of this year.
The association has established 1,000 humanitarian medical stations and 6,500 first aid stations, launched blood donation movements, and carried out programmes to fight discrimination against HIV patients. It has assisted millions of AO victims, including 300,000 victims given vocational training, jobs, soft loans for household economic development, rehabilitation surgeries, houses and allowances.

Source: VNA