President Truong Tan Sang on May 22 highlighted that Vietnam and India need to boost their comprehensive cooperation and mobilise their utmost strength to raise their relations to a higher status.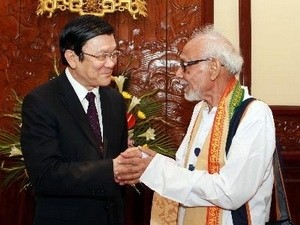 President Truong Tan Sang receives president of the India-Vietnam Solidarity Committee Geetesh Sharma in Hanoi on May 22.
He was receiving Geetesh Sharma, president of the India-Vietnam Solidarity Committee, who led a delegation to Vietnam .
Sang affirmed the two countries have developed their traditional relations based on the foundation set up by their two former leaders, Ho Chi Minh and Jawaharlal Nehru.
He said the two countries have improved their cooperation in the fields of politics, economics, national defence, culture and education, especially since the establishment of their strategic partnership in July 2007.
He said the two countries' cooperation agreements reached recently in petroleum, aviation, research, education, agriculture and culture and a memorandum of understanding on Vietnam-India Friendship Year 2012 will boost their comprehensive ties.
He expressed his wish that during this trip, the president and other members of the delegation will put forward more initiatives and effective methods to strengthen relations between the committee and Vietnam's people's organisations as well as deepen the two countries' strategic partnership.
Geetesh Sharma expressed his hope that Vietnam 's relevant agencies will keep creating favourable conditions for the committee to contribute more towards the two countries' relations. He said the committee has held a lot of activities to boost the Indian people's understanding of Vietnam.