KIEN GIANG (VNS) — President Truong Tan Sang has instructed the Mekong Delta province of Kien Giang to promote growth, particularly in tapping its sea-born economy potential.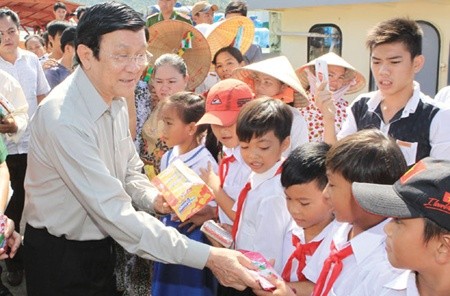 President Truong Tan Sang hands out gifts to children in MeKong Delta Kien Giang Province's Tho Chu Island commune yesterday. — VNA/VNS Photo Nguyen Khang
The President was speaking to provincial authorities while visiting the province's Tho Chu Island commune yesterday.
He said the province should encourage local businesses to increase their output of farm produce and seafood for export to markets opening the door to Viet Nam, such as Japan, the European Union and Russia.
He also asked the authorities to pay more attention to raising the living conditions of people in Tho Chu commune as part of socio-economic development, national security and defence.
Stressing the province's tourism strength, Sang said the province's Phu Quoc island played an important role in the development of not only Kien Giang but the whole Mekong Delta region.
If the Phu Quoc island district made a breakthrough in development, it would spread to the whole region, he said.
Tho Chu is one of two communes in the Phu Quoc island district. It covers an area of 16sq.km and has a total of eight islands. The island commune records an annual per capita income of VND15 million (US$714). It is home to 513 families with more than 1,900 people.
However, the commune faces many challenges. Its economic development still focuses on small-scale fishing and aquaculture. In the dry season, residents run short of water.
President Sang also spoke highly of Kien Giang's efforts in boosting socio-economic development, saying that it had recorded an economic growth rate of 8.9 per cent in the first six months of this year.
For many years, it led the country in output of aquacultural products.