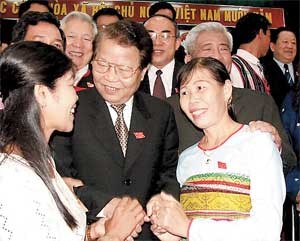 President Tran Duc Luong (C) is greeted at the Congress of Solidarity of Ethnic Groups
The first Congress of Solidarity of Ethnic Groups in the Central Highlands officially started in Gia Lai Province on March 28, 2006. State President Tran Duc Luong, who is attending the Congress, answered media's questions about the development strategies for the Central Highlands in the coming years.
Reporter: Mr. President, what proposals from the Congress delegates were you interested in?
I see that what the delegates said at the Congress expressed the peoples' legitimate interest. What the delegates said are in line with the Party and State policies that pay close attention to improving the peoples' living conditions and spiritual activities.
To boost the Central Highlands' development, what do the Party, State and local governments need to do?
At present, developing the Central Highland is a national program. I am certain that Viet Nam, which has obtained achievements in its reforms, will build the Central Highlands into a rich and politically stable region, and also strong in terms of national defense, as well as a key economic zone. It is essential to improve the local people's living conditions and develop the region's resources. The workforce here is the local people. The young generation here must be better educated and well trained, and overall human development must be ensured. Industrialization requires expertise and we need to rely on the young generation and the youths of the Central Highlands. Universal secondary education and educational programs designed for the upland region must be carried out. The quality of education and training must be improved.
What is the importance of the Congress of Solidarity of Ethnic Groups to the upcoming Party Congress?
The Congress of Solidarity is very significant because the Party, State and people of Viet Nam have been aware of the strength of solidarity. It is a great power that helped the Vietnamese people obtain great achievements that have been admired around the world. Enhancing solidarity of the peoples is the most important task all the time, and the upcoming tenth Party Congress will also stress this issue.
Thank you, Mr. President