President Truong Tan Sang arrived at Vaclav Havel International Airport in Prague on May 10, commencing his State visit to the Czech Republic from May 10-13 at the invitation of his Czech counterpart Milos Zeman.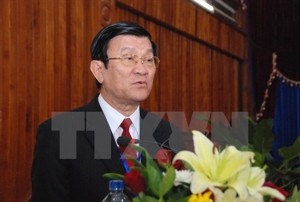 President Truong Tan Sang (Photo: VNA)
During his stay, the President is scheduled to have talks and meet with leaders of the host country. He will attend the Vietnam economic-tourism cooperation forum, the opening ceremony of the Vietnam Culture Year 2015, and the inauguration of the Vietnam News Agency's representative office.
He is set to visit Karlovy Vary city and lay a wreath at the Vitkov National Monument.
Following his arrival on May 10, President Truong Tan Sang met with Vietnamese Ambassadors and communities in some European countries.
He spoke highly of the Embassies' performance in strengthening Vietnam's relations with host countries and supporting Vietnamese citizens.
The leader highlighted the solidarity, mutual support, and integration into native nations by the Vietnamese communities, reiterating that the Party and State always consider expatriates as an inseparable part of Vietnam and an important drive of the country's development and prosperity.
President Truong Tan Sang said he hopes the Vietnamese communities in Europe will continue contributing to both their home and host countries.