Authorities of Phuoc Long town in particular and Binh Phuoc province in general should build the people's confidence in the Party, focus on economic development and improve the living standards for locals, especially ethnic minority people, as requested by the State President on his January 5 visit.
State President Nguyen Minh Triet made the statement while attending a ceremony marking the 35th anniversary of the province's liberation on January 6, 1975 in Phuoc Long town, the southern province of Binh Phuoc.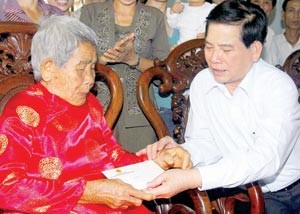 President Nguyen Minh Triet (R) pays a visit to Vietnamese Hero Mother Pham Thi Thung in Phuoc Long Town on Jan. 5
Speaking at the ceremony, the State leader praised efforts of Phuoc Long authorities and its people, as well as the Binh Phuoc province in general, for boosting economic development, maintaining regional security and improving the people's living standards.
He also noted that Binh Phuoc's localities should make appropriate preparations for party meetings in the coming time.
After 35 years of liberation, Phuoc Long town has attained encouraging socio-economic achievements. In 2009, the town's GDP reached 823 billion VND, representing an economic growth rate of 10 percent and a per-capita income of nearly 18 million VND.
In the years to come, Phuoc Long plans to speed up industrial development with priority given to processing of agricultural products, upgrading and building communal traffic roads and attracting investment in eco-tourism areas and historical sites.
On the occasion, President Triet presented the first-class Labour Order to Phuoc Long town.
Earlier, President Triet visited the Quang Trung Senior Secondary School , the My Le Co., Ltd and the Thac Mo Hydropower Joint Stock Company and presented gifts to the former head of the Phuoc Long provincial army section, Nguyen Hue, and 95-year-old Vietnamese Heroic Mother Pham Thi Nhung in Long Thuy Ward.