In an open letter to children nationwide, on the occasion of the upcoming Mid-Autumn Festival, President Nguyen Minh Triet wished them a happy festival and greater achievements to come.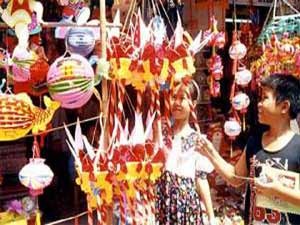 Children look with joy at lanterns as the Mid-Autumn Festival is approaching. President Nguyen Minh Triet issued an open letter to children nationwide, wishing them happiness and more successes in the future. (Photo: SGGP)
From many previous festivals to this one, despite a lot of difficulties and challenges, the country has gained proud achievements, which included children's good results at school, he wrote.

He said he was very happy to see that many children of poor families in remote and mountainous areas, as well as disadvantaged children in the cities, had become good students and won national and international awards, thanks to their ambition and determination.

He hoped the festival would help strengthen the optimistic spirit among children and create practical intentions and dreams.

Every result in studying, however small it may be, is a common happiness for the entire society, he said.

The Party, Government, parents and teachers will always have their best feelings toward children and give the best care to their development, since their future is also that of the country, he added.

The President advised children to make great efforts in their studying and self-improvement to become good citizens and contribute to the country's development.

He wished them to gain make good performances at school, do as many good acts as possible and make their intentions and dreams come true.