Vietnam's judiciary needs to keep improving its judgment quality to ensure justice, President Truong Tan Sang said at a review of the country's court cases in Ho Chi Minh City Tuesday.
The President is also chief of the National Steering Committee on Judicial Reforms.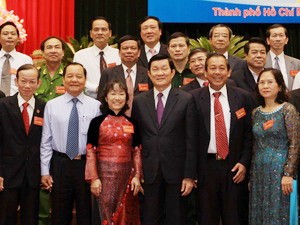 State President Truong Tan Sang (3rd, R) poses for picture with delegates at the meeting (Photo: Vietnam News Agency)
The President urged the judiciary to do its best to limit mistaken verdicts and sentences, and to minimize the number of overdue cases.
He called on the judicial system to follow late President Ho Chi Minh's moral examples, and to tackle on corruption in the system seriously.
According to a Supreme People's Court report delivered at the review meeting, 299,309 lawsuits came up for trial nationwide in 2011 among a total of 326,268 lawsuits. The performance rate was 92%. Meanwhile, the number of judgments that had to be canceled or modified due to the judges' errors was 3.6 per cent lower on 2010.
During the meeting, the Supreme People's Court received a Ho Chi Minh Order issued by the Party and State to Le Gian, former deputy chief judge of the Supreme People's Court, and an Independence Order, Class One, to Le Thi Phuong Hang, another former deputy chief judge of the Supreme People's Court.
The Supreme People's Court and the Presidential Office on this occasion signed a regulation on coordination between the two agencies.

On the same day, President Sang came to visit the High Command of Military Zone 7 located in HCM City.
Also in the city, he awarded the title of Hero of the People's Armed Forces to Mr. Nguyen Duc Hung, aka Tu Chu, former commander of the Saigon-Gia Dinh commando forces during the American War.
The President said the title was recognition of brilliant achievements by him in particular and the commando forces in general that had made substantial contributions to the Vietnamese people's victory in the war.