President Tran Dai Quang hosted a reception on June 22 for Cambodian Minister of Foreign Affairs and International Cooperation Prak Sokhonn, who is on an official visit to Vietnam.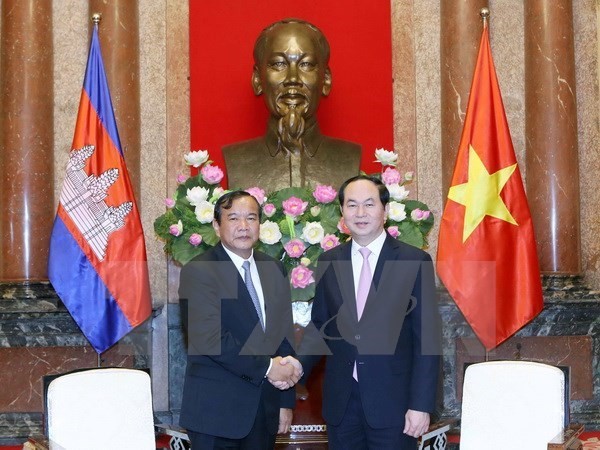 President Tran Dai Quang (R) and Cambodian Minister of Foreign Affairs and International Cooperation Prak Sokhonn (Source: VNA)
At the meeting, the State leader highlighted Cambodia's security and political stability, high economic growth rate, improved living standards and elevated position in region and the world under the reign of King Norodom Sihamoni and the leadership of the Senate, the National Assembly and the Government.
The neighbourly friendship, solidarity and multi-faceted cooperation between Cambodia and Vietnam have also been consolidated and strengthened, bringing pragmatic interests to their people, he said.
The President urged the two countries' foreign ministries to join hands with each other in organising practical activities marking the 50 th anniversary of bilateral diplomatic ties (June 24, 1967) to educate younger generations about the relationship.
Applauding outcomes of the talks between the foreign ministers of Vietnam and Cambodia, the host expressed his belief that cooperation orientations charted during the meeting will help bolster the two ministries' partnership as well as the bilateral ties between the two countries.
President Tran Dai Quang asked the minister to convey his invitations to King Norodom Sihamoni and leaders of the Cambodian Senate, National Assembly and Government to visit Vietnam.
Mr. Prak Sokhonn said President Tran Dai Quang's recent visit to Cambodia has contributed to consolidating the bilateral relations in a more sustainable fashion.
The minister said his visit aimed to demonstrate the Cambodian Government's resolve to step up the friendship and comprehensive cooperation between the two countries.
He told his host that he and Deputy Prime Minister and Foreign Minister Pham Binh Minh had reached consensus on practical measures to enhance economic and trade links and cross-border cooperation, as well as to increase mutual trust. They also compared notes on the exchange of high-level visits by the two countries' leaders.