President Truong Tan Sang has asked young Vietnamese expatriates to pursue their studies, accumulate knowledge in advanced science and technology and act as bridge between Viet Nam and their host countries.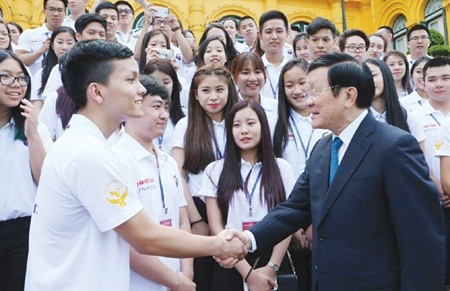 President Truong Tan Sang meets young Vietnamese expatriates who have returned home to attend the 2015 Viet Nam Summer Camp. (Photo: VNA/VNS)
The State leader met outstanding Vietnamese students who are living and studying in 22 countries and territories who have returned home to attend the 2015 Viet Nam Summer Camp.
He said that with the country's international integration, the Vietnamese community abroad was enjoying a stable life while maintaining bonds with the homeland.
Speaking about the summer camp, which is in its 12th year, he said: "The camp will take participants to major landmarks all across the nation, and make young expatriates proud of their homeland. They will become cultural ambassadors and introduce the country to international friends, while working with those at home in national construction."
Participants expressed their hope that State agencies would organise additional exchange activities to connect Vietnamese youths at home and abroad and provide Vietnamese language books for overseas Vietnamese students.
Held annually by the State Committee for Overseas Vietnamese Affairs, this year's Summer Camp is taking place from July 13-31 and has gathered more than 160 young Vietnamese expatriates.
This year's event is themed: "Proud of Viet Nam", and will take participants to important places such as Ha Noi, Phu Tho, Nghe An, Quang Binh, Khanh Hoa and HCM City.
The event also aims to help participants learn and contribute more towards promoting the country's image and building a stronger Vietnamese community.
Last year, 170 outstanding young overseas Vietnamese people attended a summer camp that highlighted the nation's sea and island sovereignty, as well as its cultural and historical values.