President Truong Tan Sang was given a State welcome at the Istana Palace in Singapore yesterday afternoon at the beginning of his three-day State visit.
Following the welcoming ceremony, President Sang met Singaporean President Tony Tan Keng Yam who said he hoped the visit would be a success, making important contributions to bringing the friendship and all-around co-operation between Singapore and Viet Nam to a new height.
Both host and guest expressed delight at the rapid and strong development in the friendship and multifaceted co-operation between the two countries in the recent past.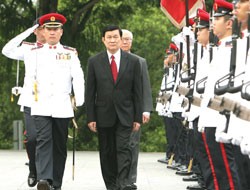 President Truong Tan Sang (R) reviews the guards of honor of Singapore
The two sides agreed to increase the exchange of high-ranking and all-level delegations, especially at ministerial level, to promote co-operation, mutual understanding and trust.
The two leaders expressed their satisfaction at the results of the implementation of the Viet Nam-Singapore Connectivity Framework Agreement and agreed to set up more industrial parks in Viet Nam .
Sang spoke highly of Singapore's role as the leading investment and trade partner of Viet Nam in recent years.
Meanwhile, the Singaporean President said his country's businesses were satisfied with Viet Nam's business and investment environment and would continue expanding co-operative economic relations with Viet Nam .
Both leaders reached a consensus on enhancing co-operation in defence, security, tourism, culture and other fields.
The two leaders affirmed their commitment to closer co-ordination within the framework of regional and international co-operation, including the Association of Southeast Asian Nations (ASEAN), ASEAN+1, ASEAN+2, ASEAN+3, the East Asia Summit (EAS), the Asia-Europe Meeting (ASEM) and the Asia-Pacific Economic Co-operation (APEC) forum.
President Sang invited President Tony Tan and his wife to visit Viet Namam at their convenience.
They exchanged views on regional issues of mutual concern, including the East Sea, and agreed that related parties should abide by the 1982 United Nations Convention on the Law of the Sea, strictly implement the Declaration on the Conduct of Parties in the East Sea (DOC) and work towards building the Code of Conduct of Parties in the East Sea (COC).
They also agreed to boost co-operation in negotiations for accession to the Agreement of Trans-Pacific Partnership (TPP).
Sang spoke highly of former PM Lee's contributions to Singapore's development.
Former PM Lee expressed his belief that President Sang's visit would make important contributions to boosting relations between the two countries. He also said that the two sides should continue boosting co-operation at regional and international forums, including ASEAN and its partners.