Vietnamese authorities and media outlets are willing to provide all possible support for the operation of Agence France-Presse in the country, President Tran Dai Quang said on Thursday at a Hanoi reception for the chairman and CEO of the French news agency, Emmanuel Hoog.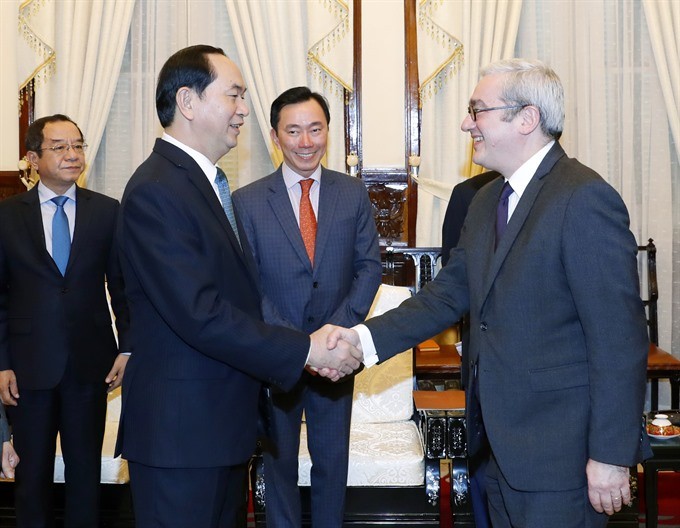 President Tran Dai Quang meets Emmanuel Hoog, chairman and chief executive of the Agence France-Presse (AFP). (Photo: VNA/VNS)

The State leader hailed AFP's media tradition and stature as one of the three largest press agencies in the world, saying that AFP was the first and only foreign outlet based in Vietnam since 1950.

He expressed appreciation for AFP's widespread and comprehensive coverage of Vietnam through traditional and novel news platforms over nearly 70 years.

The Vietnamese media landscape is changing significantly with the emergence of new platforms, such as digital, internet and electronic news, he said, adding that more than half the Vietnamese population use the web.

Speaking highly of effective co-operation between AFP and domestic press agencies, such as the Vietnam News Agency and Vietnam Television, Quang noted that there remain many co-operation opportunities for AFP in Vietnam.

The host took the occasion to ask the French news agency to continue providing the world with objective coverage of Vietnam as well as the growing Vietnam-France ties in diverse areas.

The development of the Vietnam-France strategic partnership is always one of the priorities in Vietnam's external policy of openness and integration into the world, he said.

Hoog, for his part, underscored the importance of AFP's permanent presence in Vietnam. He said AFP has made a strong commitment to Vietnam regarding professional co-operation and is modernising ways of communications.

According to him, seven Vietnamese television channels have contracted with AFP to use its television footage, and the growing demand for television news in Vietnam has strengthened AFP's belief in venturing onto such a path.