State President Tran Dai Quang asserted that Vietnam always wants to develop its strategic partnership with Singapore when receiving Singapore's Ambassador to Vietnam Catherine Wong in Hanoi on January 24.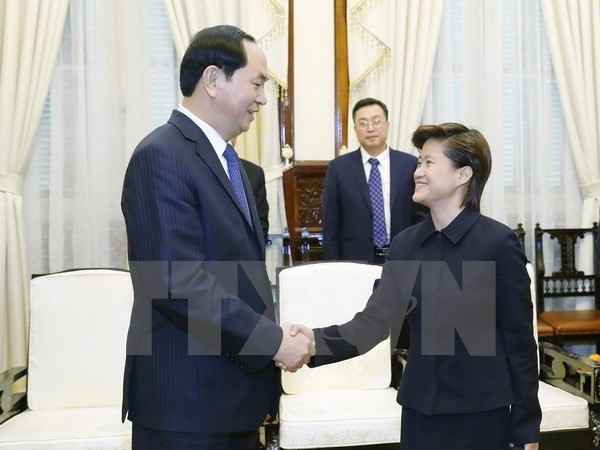 President Tran Dai Quang (L) receives Singapore's Ambassador Catherine Wong (Photo: VNA)
He expected that the two countries will work closely with a new, creative mindset, thus keeping pace with fast changes in science and technology to mutually get sustainable development and prosperity.
He suggested the diplomat work with Vietnamese functional agencies to step up bilateral cooperation, through high-level visits, Party, State and National Assembly channels, and people-to-people exchange.
He also hoped that the Ambassador will help to push for the negotiation and signing of a bilateral labour agreement, accelerate air and sea connectivity, call for more Singaporean investors to invest in energy, petro-chemistry, and agriculture, and make it easier for Vietnamese agri-products to enter Singapore.
President Quang expected the two countries will continue tapping the strengths of operating Vietnam-Singapore Industrial Parks (VSIP) and accelerating the establishment of a VSIP in central Da Nang city while studying to set up new cooperative models, like hi-tech and creative parks in big cities and a food processing zone in Thanh Hoa province.
He expressed his belief that Ambassador Catherine Wong will do her best to step up the bilateral strategic partnership and assured her that Vietnamese agencies will cooperate with her to boost the relationship in a deeper and more efficient manner.
He asked the diplomat to convey his New Year greetings to President Tony Tan Keng Yam, Prime Minister Lee Hsien Loong, and other leaders of Singapore.
The Ambassador conveyed the New Year greetings from Singapore's leader to President Quang.
She said she is delighted to see the growing strategic partnership between the two countries, especially the exchange of high-level visits, and more Singaporean investors to land in Vietnam.
She affirmed that the Singaporean Government will continue its extensive cooperation with Vietnam across politics, diplomacy, economics and others.
Singapore will support Vietnam to successfully organize the APEC Year 2017, the diplomat said.