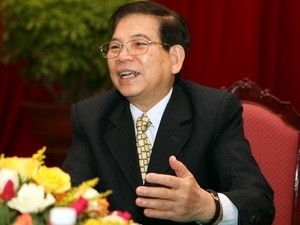 Vietnamese President Nguyen Minh Triet (Photo: Vietnam News Agency)
Japan is one of Vietnam's most important partners in terms of economics, trade and investment, Vietnamese President Nguyen Minh Triet said on Oct. 28 in Hanoi.
In an interview with journalists from the Japanese Kyodo News Agency, who are on a working visiting to Vietnam, President Triet said the Vietnam-Japan Economic Partnership Agreement took effect as of Oct. 1, marking a milestone and contributing to the completion of legal frameworks to facilitate bilateral economic and trade ties.
Vietnam applauded the Japanese government's move to increase its official development assistance to the country this year, including a sum of 500 million USD announced by Japanese Prime Minister Yukio Hatoyama in late September, he said, promising that Vietnam will continue to use this funding effectively.
The President expressed his belief that, with the keen determination of senior leaders and the joint efforts of the peoples of both countries, the Vietnam-Japan relationship would develop sustainably and realize their strategic partnership.
Vietnam is pursuing a policy of strengthening its relations with all nations around the world, including Japan, and is expecting that Japanese investors will pour more investment into the Southeast Asian country, he elaborated.
Regarding Vietnam's recent achievements, the State leader stressed that the renewal process, which was initiated and is being led by the Communist Party of Vietnam, has reaped great successes of historical significance.
With its political stability, large market and an age-old and diverse culture, Vietnam is emerging as a safe and attractive destination for foreign investors and tourists, President Triet noted.
While talking about regional and international issues, the President affirmed that Vietnam always welcomes initiatives designed to promote cooperation in all such areas.
Vietnam will do its utmost to contribute to peace, stability and development in the region and the world as a whole, he said.