President Nguyen Minh Triet expressed his appreciation for the efforts made by the northern mountainous province of Dien Bien's Party Committee, Government and people to overcome difficulties and comprehensively develop.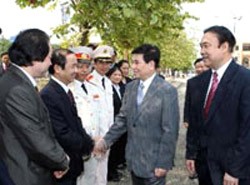 President Nguyen Minh Triet visits Dien Bien Province
He paid a two-day working visit to the province on Monday and Tuesday.

Mr. Triet said the province's annual growth rate had been climbing for the last few years and cited the advances made in industrial production and services.
 
He also praised the province for achievements in other aspects including culture, social development, health care, education, Party building, judicial reform and security in its border area.
 
He also reminded the provincial leaders that Dien Bien was still an extremely poor province. Thirty-nine percent of the province's rural population and 28 percent of its city dwellers have no access to clean water, and 40 percent of families have no access to electricity. Nearly 34 percent of the province's population is poor.
 
Mentioning solutions, the President said the Party and State considered economy the focus for developing the country.
 
He said Dien Bien must strongly transform its economic mechanism and exploit local advantages and the potential of natural resources, minerals, hydraulic power, tourism and border gates.
 
Dien Bien should develop tea, coffee and rubber plantations, he said.
 
The province has nearly 400km of border line with Laos and China, and two border gates: Tay Tang and Huoi Puoc. The province should make use of these features' potential for greater commodity exchange, he said.
 
The President also visited the border station at the Tay Trang border gate. He praised achievements made by the soldiers in protecting the border and maintaining good relations with local residents and neighboring Laos.