State President Truong Tan Sang met Speaker of the National Assembly of Azerbaijan Ogtay Asadov in Azerbaijan's capital Baku on May 14, saying that Vietnam values the development of ties with traditional friends, including Azerbaijan.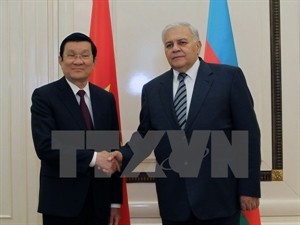 At the meeting with Speaker of the National Assembly of Azerbaijan Ogtay Asadov (Source: VNA)
The President said two-way trade remains modest so both sides should further cooperation in areas where they are strong, such as oil and gas, farm produce trading, and the light industry.
He also asked for all possible support for the two business communities to boost their trade.
The guest also thanked the Azerbaijani legislature for sending a delegation to Vietnam for the 132 nd Inter-Parliamentary Union Assembly last March, considering it as a contribution to success of the event.
Both sides agreed to facilitate the sharing of law-making experience via visits, create a legal framework for bilateral collaboration and monitor the observance of signed agreements and commitments.
Meeting Azerbaijani Prime Minister Artur Rasizade the same day, the Vietnamese leader suggested holding the first meeting of the Vietnam-Azerbaijan Inter-Government Committee on Economic-Trade and Science-Technology Cooperation soon as well as laying vision for future engagements.
They committed to further propelling trade which totaled over 400 million USD last year and strengthening links in energy and oil and gas which they said, should be a key task.
The two countries should restore cooperative ties across education-training, culture, tourism and explore opportunities in health care, transport, construction and labour, among others.
Both host and guest expressed belief that Vietnam and Azerbaijan will maximise their potential for win-win benefits that meet aspirations of their peoples.
In the afternoon the same day, President Sang laid a wreath at a monument dedicated to the late Azerbaijani President Heydar Aliyev and a memorial for unknown soldiers.-VNA