Viet Nam attaches great importance to developing the strategic partnership with Germany, President Truong Tan Sang told German Chancellor Angela Merkel during their talks on Wednesday as part of his visit to the European nation.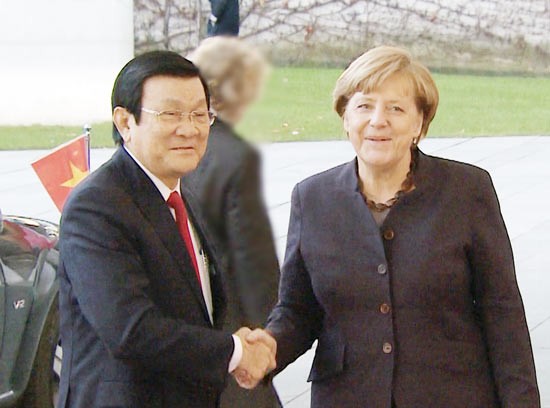 President Truong Tan Sang met German Chancellor Angela Merkel in Berlin. (Photo: SGGP)
The Vietnamese leader expressed his wish that Germany will maintain its position as Viet Nam's leading European partner in trade-investment, science-technology, education-training, vocational training and employment co-operation.
The development of Viet Nam-Germany ties in both depth and width has great significance for Viet Nam when the country is speeding up its international economic integration and major bilateral and multilateral free trade agreements, of which the Viet Nam-EU Free Trade Agreement is a high priority, he said.
Chancellor Angela Merkel said Germany values Viet Nam's position in Southeast Asia and wants to strengthen mutually-beneficial relations with Viet Nam and through Viet Nam with the ASEAN.
The two leaders noted with pleasure the effective work of bilateral co-operation mechanisms such as the Viet Nam-Germany Strategic Management Group, the Macro-economy Dialogue, the Political Consultation and bilateral working groups in various areas which have enabled the effective implementation of the Viet Nam-German Strategic Action Plan, thus increasing mutual trust and understanding.
They agreed to increase the exchange of delegations at all levels and fruitfully realise bilateral co-operation mechanisms in order to create momentum to strengthen and expand the strategic partnership.
Host and guest spoke highly of the rapid and sustainable growth of bilateral trade which nearly doubled from US$4.1 billion in 2010 to US$7.8 billion in 2014.
Germany has maintained its status as Viet Nam's largest trade partner in the EU, making up nearly 20 percent of the Viet Nam's export turnover in the EU market.
Many German businesses like Siemens, Mercedes-Benz, Bosch, B.Braun, Messer and Allianz are operating successfully in Viet Nam.
However, Germany's investment in Viet Nam has remained moderate, reaching only $1.4 billion, ranking fifth in the EU, they said.
The leaders said that the two countries' economic structures and strengths are reciprocal. They said with Germany's large economic scale and strength in cutting-edge science-technology and Viet Nam's stable and dynamic development and intensive international integration, they are in good positions to boost trade and investment.
Investment boost
Enhancing trade and investment co-operation between the two countries are in line with the consensus reached by their leaders and aspirations of their businesses, they noted.
The Viet Nam-EU Free Trade Agreement, once signed and taking effect, is bound to create an impulse for economic, trade and investment ties between the two countries in the time ahead.
The two leaders consented to bring bilateral trade to $20 billion and Germany's investment capital to $5 billion in the next five years.
Both expressed their satisfaction at the pace of the German House project in HCM City, which is described as a symbol of mutual trust and close ties between the two countries.
They agreed to create optimal conditions for the two countries' businesses to beef up their co-operation, especially in manufacturing, electronics, renewable energy, infrastructure, consumer goods and agro-fishery products.
Chancellor Angela Merkel promised to facilitate Viet Nam's exports to the German market, and noted her hope that Viet Nam will be a bridge between Germany and other ASEAN countries.
President Sang thanked the German Government for continuing the provision of development aid to Viet Nam, with $220 million to be supplied in 2015 to 2017, prioritising energy, environment and vocational training.
The leaders expressed their delight at the effective co-operation between the two countries in education-training and science-technology, and agreed to turn the Viet Nam-Germany University into a leading research and training centre in Viet Nam, meeting international standards.
They are committed to facilitating the teaching of German and Vietnamese in the respective countries and studying the construction of high-quality vocational training facilities in Viet Nam.
President Sang hailed the pilot programme of sending Vietnamese nurses to work in Germany, and proposed the European country expand labour cooperation programmes to other promising professions such as hospital technicians and orthopedic equipment manufacturers.
With a young and dynamic workforce, Viet Nam could support Germany in terms of human resources for various fields, he said.
The German Chancellor spoke highly of the successful integration of the 125,000-strong Vietnamese community in Germany, who she said have made active contributions to the development and prosperity of the host country.
She confirmed that the German Government will continue to create favourable conditions for the Vietnamese community in the country.
The two leaders also discussed in depth regional and international issues of mutual concerns and agreed to enhance cooperation and mutual support at multilateral forums and international organisations, particularly at the United Nations (UN), Asia-Europe (ASEM) Summit , and ASEAN-EU.
The German Chancellor said she supports stronger relations between Viet Nam and the EU, including the early signing of the EVFTA and the EU's recognition of Viet Nam's market economy status.
For his part, President Sang said Viet Nam will serve as a bridge to boost ASEAN's relations with the EU and Germany in particular.
Peaceful stand on sea dispute
As regards the South China Sea issues, Merkel reiterated Germany's support for Viet Nam and ASEAN's viewpoints in settling any disputes via peaceful means and in line with international law, especially the 1982 UN Convention on the Law of the Sea (UNCLOS) and the Declaration of Parties in the South China Sea (DOC).
On the same day, President Sang had a working session with German Foreign Minister Frank-Walter Steinmeier, during which the Vietnamese State leader highlighted the growing strategic partnership between the two countries and confirmed that Viet Nam regards Germany as one of its top partners and hopes to further deepen the bilateral friendship and co-operation.
The President hailed the close coordination between the two ministries of foreign affairs via consulting activities and mutual support at multilateral forums.
In the economic front, the President said there remains vast potential for bilateral cooperation in the field, and hopes the business communities would grasp new co-operation opportunities in trade and investment.
Foreign minister Frank-Walter Steinmeier said the German government attaches great importance to the strategic partnership with Viet Nam and pledged to work alongside the Viet Nam Ministry of Foreign Affairs and relevant ministries to deepen the two countries' relations.
On the occasion, President Sang along with senior officials of the two countries witnessed the signing of six co-operation documents, including an agreement to allow relatives of members of diplomatic representative agencies to hold paid jobs in the other country, a governmental agreement on science-technology cooperation, a protocol revising and supplementing terms of the 1994 aviation transport agreement, an MoU on forestry co-operation, an MoU on regular dialogues between Viet Nam Ministry of Industry and Trade, Viet Nam Chamber of Commerce and Industry, German Business Association, and Delegate of German Industry and Commerce in Viet Nam; and a technical service contract on maintaining A320 aircraft engines between Vietjet Air and Lufthansa Group.