Vietnamese State President Nguyen Minh Triet, his wife and his entourage arrived in New York on Monday, during the first leg of his official visit to the United States at the invitation of U.S President George W. Bush and the First Lady.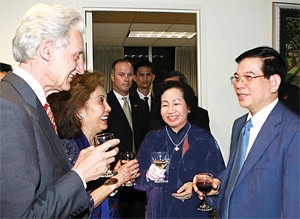 President Nguyen Minh Triet (R) and his wife talk with the Vietnamese community living and studying in New York on June 18 (local time)

He emphasized that one purpose of his U.S. visit was to update the American Vietnamese community on home affairs and indeed later that day, at the office of the Vietnamese delegation to the United Nations, the president had a meeting with the Vietnamese community that are currently living and studying in New York.
He informed them about the situation back home, the Viet Nam - U.S. relations and the goals and significance of his U.S. visit; he commented that 2006 was a good year for Viet Nam's economy and the number of foreign investors continues to increase day by day. One of the contributing factors, he added, is the contribution of overseas Vietnamese.

The president said he was delighted to see the overseas Vietnamese community lead a stable life and integrate well into the local community. He praised the majority of overseas Vietnamese for their patriotism, their sense of national dignity and the upholding of traditional cultural identities.

President Triet affirmed that overseas Vietnamese are always considered an integral part of the national unity bloc of all ethnic groups in Viet Nam in the cause of industrialization and modernization.

"Our Vietnamese country is one, our Vietnamese nation is one. We are of the same origins," he said, calling on overseas Vietnamese to remember their fatherland, and teach the Vietnamese language to their children.

President Triet announced that overseas Vietnamese would no longer need visas when visiting their homeland as of September 1, 2007.
He added that Viet Nam has mapped out a draft regulation to allow foreigners to buy houses and land in the country, thus creating favorable conditions for overseas Vietnamese to come back to their homeland.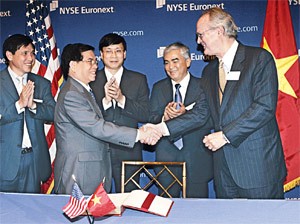 President Nguyen Minh Triet (L, 2nd) shakes hands with NYSE leaders during his visit to the U.S on June 19
However, there is still a small number of overseas Vietnamese who have been given misleading information about Viet Nam, the President said frankly. He encouraged those people to return to the country so that they can understand more about it.

The Washington Post on Tuesday published a picture of Vietnamese President Nguyen Minh Triet, Vietnamese and American flags and opinions of 10 U.S. economic leaders welcoming President Nguyen Minh Triet and acclaiming Viet Nam to be one of the world's fastest growing and promising economies.

CNN broadcast a 30-second video clip "Viet Nam: Exploring a new horizon", which highlighted some of the Renewal process achievements in Viet Nam over the past 20 years.
Some activities of the Vietnamese high-ranking delegation in the U.S on June 19:
* President Nguyen Minh Triet met with the President of the Ford Foundation.
* President Nguyen Minh Triet met with the President of Citigroup. He witnessed the signing of three financing packages worth US$400 million between Citigroup and Viet Nam National Coal and Mineral Industries Group, Viet Nam National Shipping Lines and Electricity of Viet Nam.
* President Nguyen Minh Triet visited the New York Stock Exchange (NYSE) and witnessed the signing of a memorandum between the Ho Chi Minh City Stock Exchange and NYSE.
Related articles:
State President Optimistic about Viet Nam-US Ties
State President Visits US to Boost Comprehensive Cooperation
U.S Visit Draws Attention of Foreign Media