President Nguyen Minh Triet and HCM City Party chief Le Thanh Hai met with union members and a group of young people, who study and follow Ho Chi Minh's thoughts, at a meeting held by the city's Communist Youth League on May 6.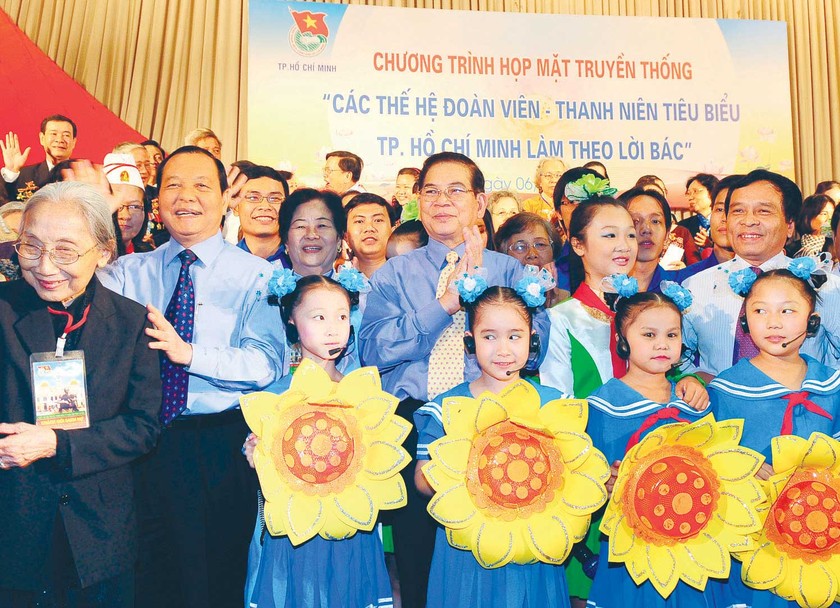 President Nguyen Minh Triet (C) and HCM City Party chief Le Thanh Hai (2nd, L) at the meeting (Photo: SGGP)
At the meeting, President Triet said he was moved and proud to join the meeting. He saw smiles and tears from comrades who fought for peace.
"Many people were not afraid of sacrificing their lives to fight for the fatherland. I was proud of them."
The young today must keep and maintain the nation's traditions. The Union is the right hand of the Party and close to citizens, especially young people, he added.
He also called upon young people to help build and protect the country and believe in the future.
 
We live, we devote
At the meeting, many stories were told, each with a real life example of those who followed Ho Chi Minh's example during the Vietnam War.
Nguyen Minh Tri, manager of Cultural, Information and Sport Department of Tan Binh District, joined the revolution when he was 17 years old.
At that time, his work was to distribute photos and newspapers from the North to citizens in the South. Two years later, in 1967, he destroyed two tanks when more than 40,000 soldiers were marching on the central bureau.
Pham Van Dien (alias Ba Khac) said he, with many young people, organized demonstrations on the streets, as well as training urban guerillas.
He said it was normal to be arrested and imprisoned at the time. The enemy suppressed citizens without mercy and though many young people died, people still fought on.
Nothing is hard
Tran Tuan Anh, a young teacher at Bach Dang secondary school, District 3, received the award "Ho Chi Minh City Young citizen" in 2008. He involved many students in a range of subjects.
He taught civics and each lesson used Ho Chi Minh as an example. His stories attracted learners, who understand the subject and improved their learning.
Many students saved money to support poor students and set up a fund to buy books for disadvantaged people in the district.