President Nguyen Minh Triet arrived in Washington DC on Wednesday to begin the next leg of his official visit to the US.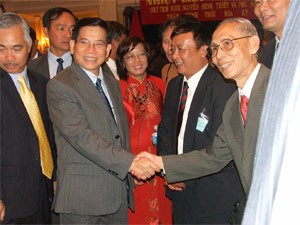 President Nguyen Minh Triet (L,2nd) shakes hands with overseas Vietnamese in Washington on June 20 (local time)
Soon after his arrival, President Triet met with members of the local Vietnamese community and stressed the significance of the first official visit to the US by a president of an independent and reunified Viet Nam.

He said the visit would foster friendly and cooperative relations between Viet Nam and the US and affirm Viet Nam's rising prestige in the regional and international arenas.

President Triet said the Vietnamese Party and State always looked on overseas Vietnamese as an integral part of the Vietnamese community of nationalities.

He said that, for Viet Nam to rise to its current position, many generations of Vietnamese, regardless of whether they lived inside or outside the country, had made unceasing efforts to contribute to the cause of national construction and defense, and especially reform over the past 20 years.

The State leader called on overseas Vietnamese to maintain close links with the homeland and pass onto young generations their Vietnamese culture, particularly the Vietnamese language.
Before leaving for Washington, President Triet and his delegation were wined and dined by the Asia Foundation and met with representatives of different circles in New York.

The President conveyed to the US political, business and academic circles the message that the Vietnamese people hoped and were willing to join efforts with the US people to raise the two countries' current fine relationship to a new height.

President Triet stressed that in spite of the geographical distance, both Viet Nam and the US wanted to build a friendly and cooperative relationship.

Since diplomatic ties were normalized, he said, Viet Nam-US bilateral relations had grown rapidly, and bilateral cooperation in many areas had been expanded.

The President went on to say, "The Vietnamese people want peace and stability for their national construction and development, so Viet Nam is expanding diplomatic ties with other countries, and hopes to befriend all countries".

The same day, President Triet attended a seminar on education at Harvard University. In his speech, he said the Vietnamese Party and State paid special attention to education and called on US universities to promote cooperation with Vietnamese universities.

The Vietnamese state leader also visited the New York headquarters of General Electric Company.
Related articles:
State President Optimistic about Viet Nam-US Ties
State President Visits US to Boost Comprehensive Cooperation
U.S Visit Draws Attention of Foreign Media
President Meets Overseas Vietnamese in U.S
Viet Nam Welcomes U.S Investors: President Triet