After arriving in Lima, Peru, yesterday to attend the 16th APEC Economic Leaders' Meeting, State President Nguyen Minh Triet met with Peruvian President Alan Garcia Perez and Japanese Prime Minister Taro Aso to foster bilateral relationships.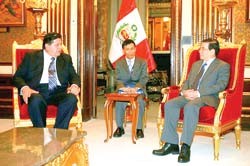 President Nguyen Minh Triet (R) talks with his Peruvian counterpart Alan Garcia Perez in Lima (Photo: SGGP)

Talking with Peruvian president Alan Garcia Perez, President Triet stressed that Vietnam and Peru needed to boost economic cooperation to a level that matches their development potential and political relations.
President Triet invited his Peruvian counterpart to visit Vietnam. President Perez accepted the invitation and said that he would make the visit next year with a Peruvian business delegation.
On the same day, President Triet attended the Vietnam-Peru Business Forum, which was jointly held by the Vietnam Chamber of Commerce and Industry (VCCI) and the Lima Chamber of Commerce (LCC). More than 200 businesses from both countries attended the event.
In his speech, President Triet stressed that this is a good opportunity for businesses from both countries to build and expand their cooperation. Vietnam is creating favorable conditions to foreign investors, he said.
President Triet and first Peruvian Vice President Luis Giampietri Rojas witnessed the signing of a cooperation agreement between VCCI and LCC.
While meeting with Japanese Prime Minister Taro Aso, President Triet expressed his thanks to the Japanese government for providing official development assistance (ODA) to Vietnam.
President Triet asked Japan to speed up the progress of three large projects in Vietnam, including the Hoa Lac hi-tech park. He also called for Japan to take part in urban transportation development projects in Hanoi and Ho Chi Minh City.
Prime Minister Aso expressed pleasure at the completion of negotiations on the Vietnam-Japan Economic Partnership Agreement (EPA), which is scheduled to be signed at the ASEAN summit in Chiang Mai, Thailand in December.
Aso also said the Japanese government is preparing for the Crown Prince's visit to Vietnam next February.