President Tran Dai Quang offered incense and released birds at a spring ceremony held in the ancient Thang Long Imperial Citadel in Hanoi on the ninth day of the first lunar month (February 5).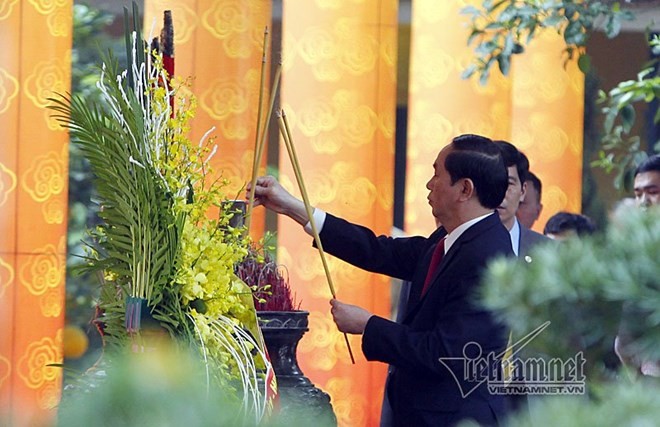 President Tran Dai Quang offers incense at the citadel (Source: http://vietnamnet.vn)
The incense offering ceremony aims to commemorate national ancestors and pray for the country's prosperity.
Other traditional rituals include a palanquin procession staged by over 300 people, a dragon dance, a drum performance, a water puppet show, and a folk music performance.
In the past, the early spring ceremony was held by kings to pay tribute to ancestors and pray for peace and happiness for the nation, according to Nguyen Viet Chuc, director of the Thang Long culture research institute.
The ceremony has been revived in recent years to honour the tradition of the old royal capital.
The Imperial Citadel of Thang Long was built in the 11th century during the Ly dynasty to mark the independence of Dai Viet, the former name of Vietnam. The central sector of the citadel was listed as a UNESCO's World Heritage Site in July 2010.