President Tran Dai Quang visited the Navy High Command, Military Zone 3 High Command and public security forces in the northern port city of Hai Phong on January 18, ahead of the upcoming Lunar New Year (Tet).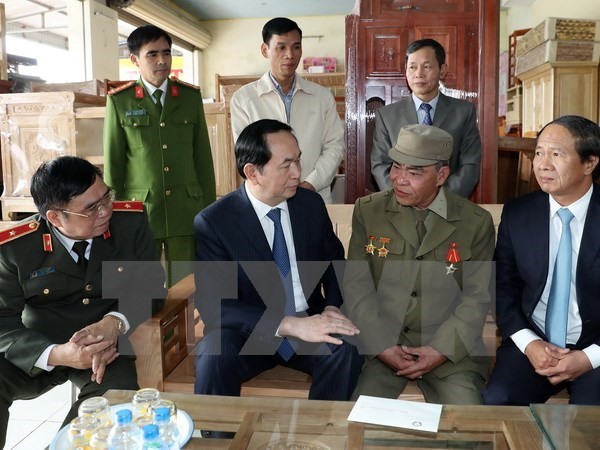 President Tran Dai Quang visits an invalid in Ngu Lao commune, Thuy Nguyen district (Source: VNA)
Via a televised programme, the State leader conveyed his New Year wish to the military force and residents in Truong Sa Lon, Song Tu Tay and Sinh Ton islands in Truong Sa (Spratly) archipelago.
Commander and Chairman of Truong Sa township People's Committee, Lieut. Col Do The Tuyen informed the leader about local preparations for the New Year festival, including cultural, music and sport activities.
President Quang took the occasion to ask the Navy to firmly guard national sea and island sovereignty as well as marine-based economy and conduct search and rescue at sea, deserving to be a firm mainstay of the people at sea and islands.
Meeting staff of the Military Zone 3 High Command, the President described the Military Zone 3 as an area of strategic importance to national defence and a gateway to the east, west and south of the Hanoi capital.
He requested the Military Zone 3 High Command keep close watch of the situation in the region and be prepared for any complicated cases in waters and border areas, including plots of hostile forces.
Talking with the public security forces of Hai Phong city, the State leader called for a crackdown on gangs and hotbeds of social disorder while effectively fighting economic, corruption, cyber, environment and drug crimes in the locality.
He also visited and presented Tet gifts to families of war heroes and invalids.