Vietnam values learning from Brunei's experiences in the fishing industry and wants to expand cooperation in the development of fishing and aquaculture, said State President Nguyen Minh Triet.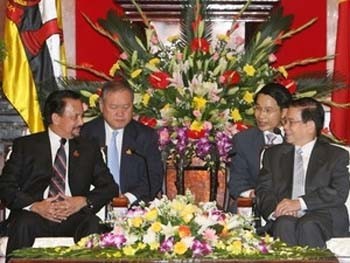 President Nguyen Minh Triet (R) receives Brunei's King Haji Hassanal Bolkiah in Hanoi on April 7 (Photo: VNA)
President Triet made the statement while receiving Brunei's King Haji Hassanal Bolkiah in Hanoi on April 7.
The State President welcomed King Bolkiah's participation at the 16th ASEAN Summit.
He thanked the King, Government and people of Brunei for their support to Vietnam in international and regional forums and their assistance to Vietnam in human resources training and receiving Vietnamese guest workers.
Vietnam and Brunei share many similarities and are close on international and regional issues, which, the President said, is a favourable foundation for promoting bilateral ties.
He went on to say that Vietnam is ready to share its experiences with Brunei in agriculture and rice cultivation and welcomes its investors to increase their stake in Vietnam .
King Bolkiah highlighted Vietnam's organisation of the 16th ASEAN Summit and congratulated the country on its outstanding achievements economic development.
Brunei 's businesses want to explore investment opportunities in Vietnam, said the King, confirming that his country will continue granting scholarships and helping Vietnam in human resources training in a number of fields where Brunei has strengths.
President Triet invited the King to soon make an official visit to Vietnam and the latter thanked the President for his invitation and hoped to receive the President on his State visit to Brunei .
Also the same day, Prime Minister Nguyen Tan Dung expressed his wish for Brunei's continued assistance to Vietnam in building a strong ASEAN community bloc to develop in line with the ASEAN Charter, at a meeting with King Bolkiah in Hanoi.
Sharing many cultural similarities, Vietnam and Brunei should further enhance cooperation and exchange activities and sign a memorandum of understanding on cultural exchange soon so that the two peoples will increase mutual understanding and the fine development of their friendship, said PM Dung.
Regarding promoting bilateral ties in investment and trade, PM Dung said that two-way trade remains low, standing at around 8 million USD and has not matched the two country's potential.
He suggested both sides collaborate in signing an investment encouragement agreement to further increase the efficiency of these activities.
He said he was delighted that there are more and more Vietnamese people working and studying in Brunei and hoped that the two sides would soon negotiate a memorandum of understanding (MoU) on labour cooperation.
King Bolkiah welcomed the proposal to sign agreements and MoUs on investment, labour and cultural cooperation.
He also confirmed his support for Vietnam in building a strong ASEAN community and expressed optimism that Vietnam's hosting of the upcoming 16th ASEAN Summit will be a success.