Vietnamese President Truong Tan Sang on Sept. 19 applauded the Ministry of National Defence for its ongoing protection of national sovereignty and a peaceful and stable environmental necessary for national development.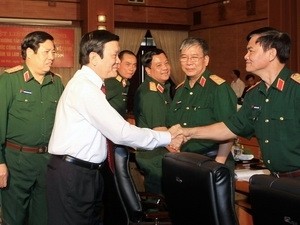 Vietnamese President Truong Tan Sang (front, L) meets with leaders of the Ministry of National Defence in Hanoi September 19, 2011 (Photo: Vietnam News Agency)
Speaking at a meeting with the ministry in Hanoi, President Sang said he highly valued the ministry's achievements, including good performance of its functions of advising the Party on national defence and military affairs and implementation of protection of territorial sovereignty, contributing to maintaining an environment of peace and national political security.
On the same day, he had a meeting with the Ministry of Public Security.
During the two separate meetings, he urged the two ministries' leaders to continue comprehensively renewing leadership and instruction on implementing national defence tasks and policies in the spirit of the Resolution of the 11th National Party Congress and in line with the requirements of the new situation.
He also asked the ministries to take effective measures to bring Party Central Committee Resolutions into its training, raising combat readiness and meeting new demands.
The State leader applauded achievements the Ministry of Public Security' has recorded in combating crime, security and order guarantee, force development, administrative reform and amnesty work in 2011.
He analyzed elements that affected security and order in the future and gave instructions on building a crack public security force to successfully fulfill assigned tasks, contributing to socio-economic development and protecting people's peaceful lives.