President Truong Tan Sang of Vietnam has arrived in Moscow on a State visit to the Federation of Russia, according to Ria-Novostri and Itar Tass.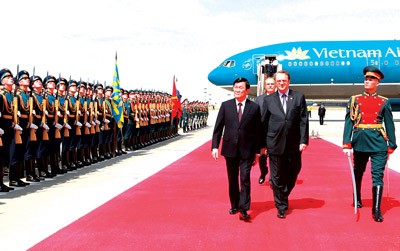 President Truong Tan Sang views the guard of honor of the Russian army (photo SGGP)
Vietnamese President Truong Tan Sang and Russian Prime Minister Dmitry Medvedev held a meeting in Moscow on afternoon of July 26, soon after arrival of Mr. Sang.
The meeting took place after a welcome ceremony for the Vietnamese leader at the Vnukovo-2 Airport.
The two high ranking officials noted with satisfaction the positive development of Vietnam-Russia ties as bilateral political relations have been further strengthened while cooperation in economics-trade, science-technology, security-defense, education-training, culture and tourism have been continuously expanded.
President Sang and Prime Minister Medvedev shared the view that the strategic partnership between Vietnam and Russia has developed strongly and effectively over the past years.
The two sides spoke highly of strategic cooperation projects that Vietnam and Russia are jointly implementing, especially those in oil and gas and nuclear power, including the Ninh Thuan 1 nuclear power plant.
PM Medvedev affirmed that Russia will continue to pay attention to energy cooperation projects with Vietnam and create favorable conditions for the two countries' oil and gas joint ventures to carry out signed contracts and expand oil and gas exploration and exploitation in Russia.
Vietnamese and Russian leaders have agreed to speed up negotiations and signing of a free trade agreement (FTA) between Vietnam and the customs alliance of Russia, Belarus and Kazakhstan.
Both leaders said that the FTA will open up great prospects for increasing economic, trade, investment and service cooperation between the two countries.
President Sang also assured his host that Vietnam will create all favorable conditions for Russian oil and gas businesses to continue cooperation in oil and gas exploration and exploitation in the country's continental shelf.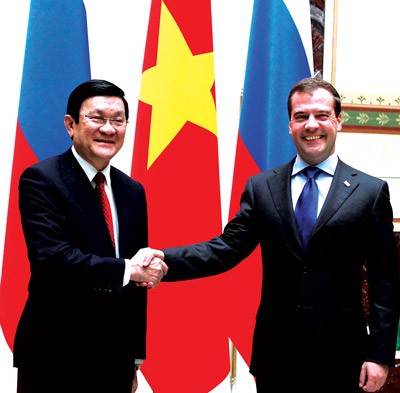 Russian Prime Minister Dmitry Medvedev (R) welcomes President Truong Tan Sang at the Government Guest House in Moscow on July 26 (photo SGGP)
The two sides agreed to seek new areas of cooperation, while helping Vietnamese businesses to take part in development projects in Russia's Far Eastern region as well as Russian companies to do business in Vietnam.
Russia's mass media, including Itar-Tass and Ria-Novosti news agencies, 'Russia State TV Channel and 'Channel One' praised the effective cooperation between Vietnam and Russia over the past years.
They quoted PM Medvedev as saying that the visit of Vietnamese President Truong Tan Sang is of special significance to bilateral ties.
According to Moscow Times, one of the most significant activities in this visit of President Truong Tan Sang was the opening of the first oil flow produced by the Oil and Gas venture Rusvietpetro on July 27 at the mine on the West Khosedayuskoye in the autonomous region of Nenetsky, in the northern Russia Arctic ice belt.
Moscow Times newspaper quoted the Vietnamese Embassy in Russia that oil and gas cooperation is an important field for bilateral relations.
According to the agenda, on July 27, President Truong Tan Sang will hold talks with Russian President Vladimir Putin in Sochi. The top level talks of Vietnam - Russia will include the discussions of prospects for increased bilateral political dialogue and promoting the exchange of goods between the two countries, which had increased 25.2 percent, reaching more than US$3 billion in the year 2011.
The two leaders will discuss prospects for strengthening relationships and cooperation in general in large-scale projects, primarily in the areas of energy, information technology, manufacturing technology and scientific cooperation techniques.
The two countries' cooperation in trade and humanitarian activities is very effective and Vietnam and Russia have established a regular dialogue mechanism in all issues.
President Truong Tan Sang and President Vladimir Putin will exchange opinions on urgent international issues, including preparations for the Summit Economic Forum on Asia-Pacific Economic Cooperation (APEC) that is expected to be conducted in Vladivostok on Russia's Far East region on September 8 and 9.
There are plans to announce the start of negotiations on the FTA in September on the occasion of the APEC Summit in Vladivostok.
The two sides are expected to kick off the FTA negotiations at the upcoming Asia-Pacific Economic Cooperation (APEC) Summit to be held in Vladivostok in Russia this September.

By Thuy Vu (SGGP) – Translated by Dan