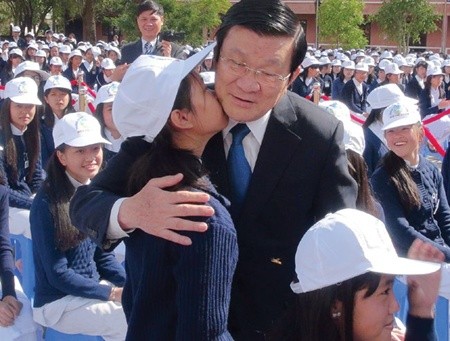 President Truong Tan Sang meets students at Bui Thi Xuan High School in Da Lat

State President Truong Tan Sang has urged agencies, schools and parents to create the best conditions for students to enable them to make contributions to the country's socio-economic development.
Sang spoke yesterday at an opening ceremony at Bui Thi Xuan High School in Da Lat City in the Central Highlands province of Lam Dong.
"The Party and State have always paid special attention to education and training, considering it a top national priority," the president said.
Education and training are considered strategic tools for the country's industrialisation and modernisation, Sang told teachers and students at the high school.
Sang said the education sector needed urgent reform in order to generate high-quality human resources for the country.
He asked teachers to improve teaching methodologies and professional skills as well as set good examples for students to follow.
During the ceremony, the president presented gifts to 10 outstanding students from poor families.
Sang then beat a drum to kick off the new school year.
Set up 61 years ago, Bui Thi Xuan High School has met national standards, providing high-quality education services. Many graduates of the school work as managers, scientists and officials throughout the country.
President's message for new academic year
State President Truong Tan Sang has sent a letter to teachers, students, their parents and staff working in the education sector on the occasion of the new school year.
In Viet Nam, September 5th is the start of new academic year across the country and emphases the importance the country attaches to education.
In this year's message, President Sang applauded the achievements that teachers and students made during the last school year, especially those in disadvantaged remote areas and those who won prizes at international and regional contests.
He emphasised that this academic year would be the first time the country had implemented the Party Central Committee's resolutions on fundamental and comprehensive reform of education and training to meet the demands of national industrialisation and modernisation in the context of developing a socialism-oriented market and global integration.
He urged the whole sector to renovate managerial mechanisms, nurture a contingent of teachers and education managers and improve the quality of education.
Sang also asked authorities, organisations, families and students to give more care and investment to education and training while reminding them of President Ho Chi Minh's letters to students and teachers in the 1968-69 school year in which he urged them to overcome any difficulties to study hard and reach the peak of science and technology.
In Viet Nam, the school year usually starts in September and ends in May. Viet Nam has about 22.5 million students