Asia and Africa have the responsibility of working together to tackle several major challenges facing the world, President Truong Tan Sang said yesterday.
President Truong Tan Sang speaks at the Asian-African Conference yesterday (Photo: VNA/VNS)
Delivering a keynote address at the opening ceremony of the Asian-African Conference yesterday in Jakarta, he called for strong co-operation between the two continents in deal with the challenges.
Sang highlighted the 1995 Bandung Conference as a great source of inspiration for Asian and African people for standing firm in their fight for national independence and national development.
He said the people of both continents have to deal with armed conflicts, instability and territorial disputes, poverty and diseases, as well as the new global challenges of climate change, terrorism, water shortage and inequalities in the economic and financial systems.
"We have the responsibility to work together and contribute our best in dealing with these challenges," Sang said.
"With 73 per cent of the world's population and 30 per cent of the world's GDP, we have the basis for tapping the potential for further co-operation between our two continents."
He stressed the need to comply with the Ten Principles of Bandung, respect sovereignty and territorial integrity without aggression and settle disputes by peaceful means in accordance with the United Nations Charter.
Sang said Viet Nam wanted to forge a sustainable Asia-Africa connectivity based on common rules and standards, particularly through South-South initiatives on trade, investment, agriculture, telecommunications, labour, health and education at the regional, sub-regional and bilateral levels.
The two continents also needed to push up maritime and aviation links to guarantee a safe and secure environment on the Indian and Pacific oceans, he said.
The Vietnamese leader urged the two continents to reinforce co-ordination at international forums, work out the post-2015 development agenda and climate change adaption measures under the framework of WTO negotiations.
With world leaders
Sang also attended the second and third plenary sessions of the Asian-African Conference and met with world leaders in Jakarta yesterday.
Meeting with Madagascar President Hery Rajaonarimampianina, the President proposed facilitating high-level visits as well as mutual support at international organisations and forums.
President Rajaonari-mampianina proposed partnerships in farming, mining and telecommunications, adding that Madagascar would send a delegation to Viet Nam to discuss joint work in agriculture.
In a dialogue with South African Vice President Cyril Ramaphosa, Sang said Viet Nam treasures its traditional friendship with South Africa, one of its significant partners in Africa.
He said thorough preparations would be made for the upcoming Viet Nam visit by President Zuma, as also for continued exchange visits at all levels and collaboration at regional and global forums.
Both countries should strive to reach the US$1 billion target in two-way trade, he said.
At a reception for Swedish Foreign Minister Margot Wallstrom, the President called for more incentives for the two business communities, considering the impending signing of the Viet Nam-European Union free trade agreement.
Meeting Indian Foreign Minister Sushma Swaraj, President Sang said Viet Nam hopes to strengthen bilateral ties through visits by leaders like the upcoming Viet Nam visit by Indian Prime Minister Narendra Modi and the India visit by National Assembly Chairman Nguyen Sinh Hung.
He also urged efforts to meet the $15 billion two-way trade target by 2020 and continued support for business affiliations in oil and gas, energy, infrastructure, information technology, farm produce processing and garment sectors
Direct India flights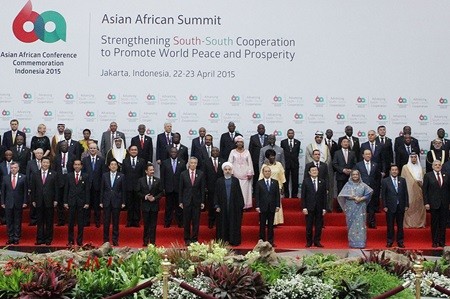 President Truong Tan Sang (fourth from right) poses with heads of delegations to the Asian-African Conference (Photo: VNA/VNS)
Both sides should tap potentials offered by direct flights between Viet Nam and India, he said.
Sushma Swaraj invited Vietnamese businesses to visit India, saying the "Made in India" prog-ramme initiated by PM Modi offers great opportunities for both sides to enhance business co-operation.
Yesterday, he also spoke with Venezuelan Vice President Jorge Arreaza.
The president said that Viet Nam is ready to work with Venezuela to boost agricultural production.
He promised the country would continue to encourage its enterprises to invest in and seek partners in Venezuela, especially in power-saving bulbs, polymer steel and construction material industries.
He proposed that the Inter-Governmental Committee work harder to tap into all its members' potential in agriculture, energy, telecommunications and construction sectors.
Viet Nam will work closely with Venezuela and other member countries to successfully organise the Non-Aligned Movement Summit in September, he said.
The Venezuelan Vice President said his country attaches much importance to developing ties with Viet Nam. He agreed there is room for both sides to boost cooperation and concurred with the necessity of promoting the outcomes of the Inter-Governmental Meeting.
He also met with Angola Vice President Manuel Domingos Vicente and Tunisian Foreign Minister Teieb Baccouche.