State President Truong Tan Sang hosted a reception in Hanoi on January 4 for dignitaries of the Cao Dai sects on the occasion of the New Year 2012.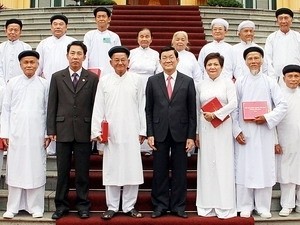 Localities urged to enhance HIV/AIDS control and dignitaries of the Cao Dai sects (Source: VNA)
Cardinal Tran Duc Dang and other dignitaries of Cao Dai sects thanked the Party and State for creating favourable conditions for Cao Dai followers to practise their faith. They also briefed their host on the achievements of Caodaism in the recent years.
In almost a century of establishment of development, with the tradition of patriotism, many Cao Dai believers joined resistance wars against foreign invaders. Nearly 5,000 of them laid down their lives and 267 women of Cao Dai sects were conferred the title "Vietnamese Heroic Mother".
Cao Dai now has nearly 3 million followers, 15,000 dignitaries and over 1,000 places of worship. Cao Dai believers always promote religious unity, abide by State laws and policies and participate in charitable and social activities.
Wishing Cao Dai's dignitaries and followers best wishes in the new year, President Sang praised their contributions to the national construction and defence. The president expressed his hope that Cao Dai dignitaries would continue to encourage followers to boost unity among religions and actively join in social activities./.