President Truong Tan Sang hosted a reception for former US President Bill Clinton in Hanoi on July 18.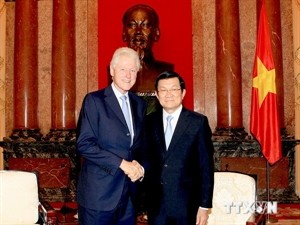 At the reception (Source: VNA)
Vietnam is among Clinton's stopovers during his trip to five Asia-Pacific countries aiming to promote the operation of a HIV/AIDS Prevention Foundation named after him.
President Sang thanked Clinton and his wife for their contributions to Vietnam-US relations when they were in office as well as at present through the Clinton Foundation.
Vietnam will fully realise agreements reached by leaders of the two countries including the search for remains of US soldiers in Vietnam, the president said, adding that he is pleased with the achievements by both nations since they established the comprehensive partnership last year.
President Sang said he hopes to welcome President Barack Obama to Vietnam at an early date, particularly on the occasion of the 20 th anniversary of the diplomatic ties next year.
Hailing the presence of US big companies in Vietnam, including oil and gas firms, Sang affirmed that Vietnam will create the best possible conditions for US investors.
He called on the US to soon lift the ban on lethal weapon sales to Vietnam, which according to him is important to demonstrate mutual trust and the full normalisation of bilateral ties.
The State leader thanked the US for helping Vietnam clean up dioxin in contaminated areas, and expressed hope that the programme will continue in large scale in Vietnam's southern region.
President Sang welcomed the US Senate's resolution which protested against China's positioning of oil rig Haiyang Shiyou – 981 in the East Sea and requested China to withdraw its oil rig. He also thanked the US Government, Congress, politicians, scholars and public opinion for their strong voice in the case.
Clinton took note of President Sang's suggestions, including the lifting the ban on lethal weapon sales. He said both nations need to work more closely together to deal with the aftermath of the war, adding that in any position, he will do his best to promote the friendly cooperation between the two countries.
The former President told Sang that he is keen to learn about the treatment of HIV/AIDS and drug-resistant malaria in Vietnam.
He spoke highly of Vietnam's stance in responding to ongoing regional issues and made clear that the US backs cooperation, peace, stability and prosperity for all nations.