President Nguyen Minh Triet has wished the children and youth of the country a happy and prosperous Mid-Autumn Festival in a letter to children just a few days before the eve of the festival.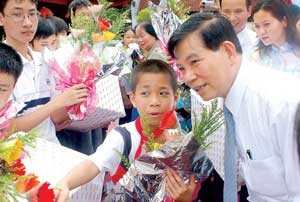 The filed photo shows President Nguyen Minh Triet talking with disadvantaged children at the Children Festival in last June.
He expressed his happiness that children are achieving good results at school, and participating enthusiastically in useful social activities. He reserved particular praise for disadvantaged children who displayed courage and will power in overcoming many difficulties.
"The nation also remembers at this time the children and their families who have been affected badly by natural disasters, and many other poor families who need aid to subsist", Mr.Triet said.
"The Party, Government, parents and teachers will always try their best to protect the children and provide good conditions for them to grow up and improve themselves", he added.
In the letter sent on the occasion of the festival, the president also extended his greetings and wishes to overseas Vietnamese children .