Besides tapping its natural resources and labor potential, Gia Lai Province also needs to develop its education system to achieve socioeconomic development, President Nguyen Minh Triet said.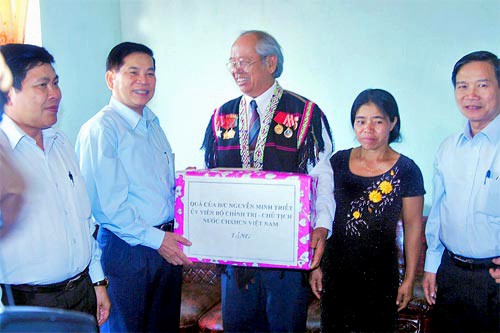 President Nguyen Minh Triet (L, 2nd) presents a gift to former chairman of the Gia Lai Province Farmers' Association, Krung Dam Veo (Photo: SGGP)
He was speaking during a visit on March 29 to the Tay Nguyen (Central Highlands) to attend a conference of village patriarchs.
He hailed Gia Lai's efforts to tackle its problems to ensure steady growth and social security.
Last year its growth was higher than the national average. Agro-forestry accounted for 47.3 percent of its economy, industry-construction for 25.2 percent, and services for 27.4 percent.

With the country including Gia Lai still in the throes of the global recession, the province should identify its impacts to find measures to sustain growth, the President said.

"Gia Lai should accelerate its economic restructuring to further increase the share of manufacturing and services, make the best use of its potential, particularly with regard to natural resources and labor, promote the cultural identities of its ethnic minorities, and efficiently implement social welfare policies."

It should speed up educational development, considering it the "golden key" to its success, he said.

He agreed with several suggestions from provincial leaders for developing education, saying it is necessary to build pre-schools and universities in predominantly ethnic minority areas.

He paid a visit to Dak Doa District, where he offered gifts to several residents covered by the Government's social policy, including a former chairman of the provincial Farmers' Association, Krung Dam Veo, and war invalid Tran Hung.