Vietnamese President Nguyen Minh Triet wrapped up his official visit to the United States on June 24 after fruitful talks with President George Bush, and numerous meetings with American politicians and businesspeople as well as the Vietnamese community.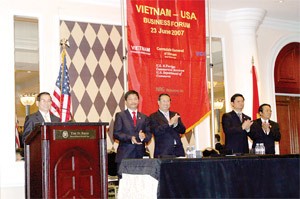 President Nguyen Minh Triet (L) addresses the Viet Nam-U.S Business Forum in Los Angeles on June 23 (local time)

Presidents Triet and Bush reached consensus on an array of issues and agreed to bolster the friendship and solidarity between the two countries and peoples.

Mr. Triet stressed that they shared the view that the two countries needed to promote the exchange of visits and increase economic and trade cooperation.

"We also agreed to focus on cooperation in science and technology, education, healthcare, HIV/AIDS and humanitarian issues like assistance for Agent Orange/dioxin victims and the detoxification of dioxin-contaminated areas," he said.

President Triet said he had frank and open discussions with President Bush and the leaders of the U.S House of Representatives and the Senate on those issues where differences remain and came to the conclusion that more dialogue was needed for increased understanding.

He also spoke about his stop-over in California's Orange County, describing the visit as an affirmation of the Party and State leaders' desire to meet with the overseas Vietnamese in the U.S.

"I wish the Vietnamese community in the U.S to be successful always. I hope that they will lend a helping hand for the homeland's national construction and act as a bridge between the two nations," Mr. Triet said.

Earlier, on the morning of June 23 (local time), President Triet attended the Viet Nam-U.S Business Forum in Los Angeles organized by the Viet Nam Chamber of Commerce and Industry and the Viet Nam Businesspeople Association.

At the forum's conclusion, he witnessed the signing of a score of cooperation and investment deals and informed the participants that, during his visit, Vietnamese and American businesspeople inked economic contracts and agreements totaling US$11 billion.

Also that day, President Triet had working sessions with the Speaker of the House of Representatives and the Speaker and Deputy Speaker of the Senate of California and several city mayors, and met with representatives of 20 major West Coast companies.