President Nguyen Minh Triet paid tribute to fallen soldiers at National Cemeteries in central Quang Tri province for the occasion of the upcoming Day for War Invalids and Martyrs (July 27) on Sunday.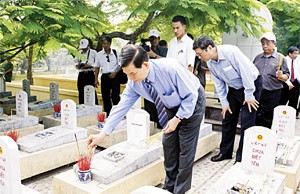 President Nguyen Minh Triet burns incense at the Truong Son National Martyrs Cemetery in Quang Tri Province on July 15
The President and other leaders laid wreaths and burnt incense at the Truong Son and Road No.9 National Martyrs Cemeteries and Quang Tri old citadel, where one of the fiercest battles of the Viet Nam war took place. 
They also floated flowers on Thach Han River to commemorate fallen heroes and martyrs.  
"We are always grateful to heroes and martyrs who sacrificed their lives for the nation's independence and freedom and the people's happiness", the President said before the cemeteries. 
Quang Tri, home to fierce fighting during the war, houses 72 cemeteries where the remains of almost 60,000 soldiers, including 19,000 from the province were buried. 
President Triet called on the public to take part in providing care for the families of wounded and dead soldiers as a way to compensate their losses. 
The State President presented gifts to some Vietnamese Heroic Mothers and representatives of families of wounded and dead soldiers in the province. 
Quang Tri alone has raised VND47 billion (around US$3 million) to build 300 new houses and repair 700 old houses for those people who provided a great service to the nation. 
At present, the province is supporting more than 80,000 wounded soldiers, relatives of fallen combatants, heroic mothers and revolutionary veterans. 
On the same day, war invalids, martyrs' families and AO victims had a meeting at the Ho Chi Minh City's Military Zone 7 Cultural House, where they commemorated 20,000 dead soldiers and 30,000 wounded and affected by chemical poisons in the battle fields in Truong Son.