President Nguyen Minh Triet has expressed good wishes to the Khmer ethnic people in Can Tho City ahead of their three-day New Year's festival, called Chol Chnam Thmay, which begins April 14.
Speaking at a gathering with Khmer people in the city on April 6, President Triet said the Party and State will never forget the great contributions of the Khmer during the past struggle for national liberation and will always consider them an inseparable part of the Vietnamese nation.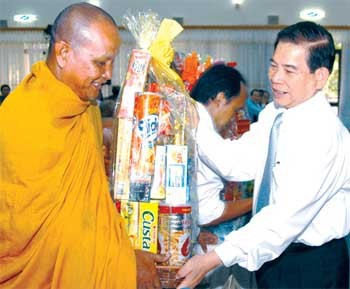 President Nguyen Minh Triet offers a gift to a Khmer monk on April 6 while attending a gathering ahead of the Khmer people's New Year's festival, Chol Chnam Thmay (Photo: SGGP)
"April reminds us all of the same month 35 years ago. Those glorious days of the historic month help revive in us national pride, especially the solidarity between all ethnic peoples in the great unity of the entire Vietnamese nation," the President said.
"The war has left heavy consequences and the past 35 years have not yet been enough for us to see the country develop vigorously. Our people, including Khmer minorities, are still poor. Therefore, we must join together and consolidate our national unity to further build the country," he said.   
Mr. Triet called on all Khmer people living at home and abroad to hold fast to their tradition of solidarity and make more contributions to the country's development.
 
The southwestern region is home to 1.3 million Khmer people, accounting for 8 percent of the region's population. Most of them are Theravada Buddhists, and the region has 453 pagodas with over 9,000 monks.
Of the Khmer community here, tens of thousands of families have contributed to the past struggle for national liberation.  
Living conditions of the Khmer people in the region have increasingly been improved, with the poverty rate reduced from 40 percent in 2006 to 28.4 percent at the end of 2009 and 80 percent of households possessing TVs, radios and motorbikes.
However, the ethnic group continues to uphold their time-honored traditions and society.