President Nguyen Minh Triet will begin a three-day state visit to Cambodia tomorrow at the invitation of King Norodom Sihamoni and sign several agreements with his hosts to boost cooperation between the next-door neighbors.

The visit takes place at a time when the relationship between Viet Nam and Cambodia is developing in a result-oriented direction with the slogan: "Good neighborliness, traditional friendship, all-round cooperation and long-term stability."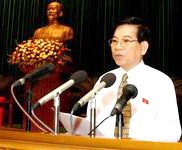 President Nguyen Minh Triet
Last year Vietnamese Prime Minister Phan Van Khai traveled to Cambodia in March and his successor, Nguyen Tan Dung, did the same in December.
In the other direction, King Sihamoni, Cambodian National Assembly President Heng Samrin and Foreign Minister Hor Namhong visited Viet Nam in 2006.
Viet Nam and Cambodia have signed a treaty supplementing the 1985 Border Demarcation Treaty and worked closely to resolve issues relating to their common land and sea border.
They have also cooperated more in education, health care, transportation, electricity generation and other areas of mutual concern. As just one example, Cho Ray Hospital in Ho Chi Minh City has built a branch clinic in Phnom Penh and often sends its eye surgeons and support staff to Cambodia to repair the sight of people too poor to afford proper medical treatment.
And they have boosted cooperation as members of the Association of Southeast Asian Nations, the Mekong Sub-region and the Cambodia-Laos-Vietnam Development Triangle.
Two-way trade between the two nations has steadily increased in recent years, climbing from US$180 million in 2000 to US$515 million in 2004 and reaching US$900 million in 2006, a 30 percent improvement on the previous year.