State President Nguyen Minh Triet has asked northern mountainous Lai Chau province to bring into play the economic efficiency of tea trees, expand the acreage of rubber trees and develop cattle breeding.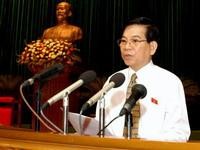 President Nguyen Minh Triet
"Hydro-electricity is also another field that needs to be fully tapped," President Triet told Lai Chau provincial authorities during his two-day visit to the northwestern region concluding on March 20.
"Due to its big basin and the density of rivers and streams network, Lai Chau has a great potential for hydro-electricity development capable of producing over 2,000 MW," the President noted.
While visiting the Ma Lu Thang Border Gate Economic Zone and border station in Ma Li Pho commune, Phong Tho district, President Triet suggested Lai Chau fully exploit the economic potential of the border gate which, he explained, has an important role for Lai Chau border province's economic development.
The State President also held working sessions with the Lai Chau Provincial Judicial Agency and the Lai Chau Defence Command.
"The province should accelerate its information and education work to help its local people understand and abide by laws as many criminals did not understand the laws and are easy to be taken advantage of," President Triet stressed.
On March 19, President Triet visited the Lai Chau boarding school in Lai Chau town. Talking with the school's students, the President said the country has 54 ethnic groups living in different parts of the country and many parts still suffering from low living conditions.
He went on to say that "The State policy of opening boarding schools aims to help ethnic children access knowledge and be able to enter universities with the hope that the whole people will have the same education level."
President Triet expressed the hope that the students will constantly exert their efforts to study to later become talented and virtuous citizens to serve the national construction and development.