President Nguyen Minh Triet visited the Saigon Jewelry Company yesterday, extended Lunar New Year's greetings to the managers and staff, and said the company had to work even harder to "integrate into the world's trade nexus".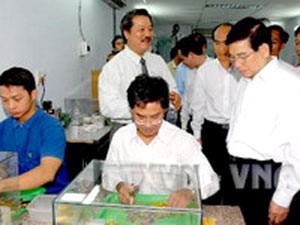 President Nguyen Minh Triet pays a New Year visit to the Saigon Jewelry Company yesterday
At SJC's headquarters in Ho Chi Minh City, President Triet said he was pleased with the company's achievements last year after hearing reports from SJC chairman Le Hung Dung and general director Nguyen Thanh Long.
 
In their report, the senior executives said SJC had grown exponentially in the four years since adopting the parent-subsidiary business model. Most exceptional was its great success last year in three fields: economics, politics and organization.
 
They presented SJC's plans for 2007 like equitizing the company, building a 45-storey tower, starting up a bonded warehouse for gold, and exporting jewelry.
 
President Triet praised the company's staff for their zeal and evident commitment to grabbing market share and building up the SJC brand name.
 
He said the country had developed and been successful in every way, especially in foreign affairs. Viet Nam was now a member of the World Trade Organization, he said, and the country's chance had come; however, the challenges were also formidable so the company had to be strong to face up to them.
 
He said he believed the company's employees would continue their success in the new year by growing the business, especially in international markets now that Viet Nam was actively engaged in the global economy.
 
Besides unity and enhancement of the collective mind, he said, SJC should create the right conditions for its managers to get further training and thoroughly prepare for joining the global market.