State President Nguyen Minh Triet has asked the southern province of Tay Ninh to focus on developing its transport network to spur on economic growth.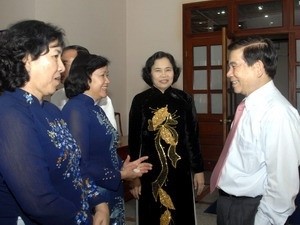 President Nguyen Minh Triet  (1 st, R) talks with Tay Ninh Province's authorities on December 29
During a meeting with Tay Ninh's authorities on December 29, President Triet also asked the province to urgently upgrade its human resources and ensure a proficiency in foreign languages to help boost the province's economic integration and development.
He advised the authorities to bolster its local industries, services and restructure its economy, especially in agriculture, which remains its core sector, to gain a higher economic value.
The State leader praised Tay Ninh for posting a GDP of 10.7 percent in 2009, which is higher than the national GDP average and reducing its number of poor households to 5.2 percent, half of the national average.
Also at the meeting, President Triet discussed implementing more justice reforms, pointing out the need to employ professionally qualified officials who can better serve the people.