State President Truong Tan Sang attended the annual Tich Dien (Ploughing) Rice Festival in the northern province of Ha Nam on January 29 ( seventh day of Lunar New Year ).
This year the annual Tich Dien Rice Festival took place from Jan. 27-29 (fifth to seventh day of Lunar New Year), traditionally held to pray for the next bumper rice harvest.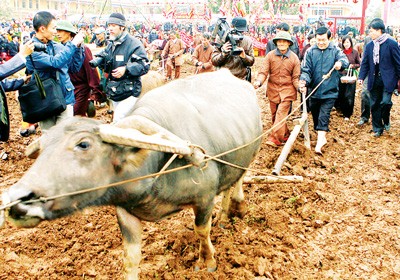 State President Truong Tan Sang attends the annual Tich Dien (Ploughing) Rice Festival (Photo:SGGP)
The festival first originated in AD 987 when King Le Dai Hanh ploughed a rice field in Doi Son Commune of Duy Tien District in Ha Nam Province, to encourage farmers to work harder and pray for a bumper harvest and a prosperous year.
The State President noted that the festival has become an important spiritual activity of a wet rice civilization and should be preserved and developed for future generations.
President Sang stressed that looking back over the course of Vietnam's history, in all circumstances, agriculture, farmers and rural areas laid the basic foundation for politics, economics and social affairs.
Global economic integration poses numerous challenges, and agricultural development remains the cornerstone of maintaining social stability and food security, he said.
"Since the Vietnamese nation was founded thousands of years ago, agriculture has been at the top in national development," said Comrade Sang. "That's why royal regimes from the Pre-Le to the Nguyen dynasties were interested in the Ploughing Rice Festival at the beginning of Tet Lunar New Year."
The President said that being aware of the importance of agricultural production; the Communist Party of Vietnam has issued a new resolution on agriculture and rural development which is being put into practice.
On the same day, President Sang also launched the Tree Planting Festival in Kim Dong Commune of Kim Son District in the northern province of Ninh Binh.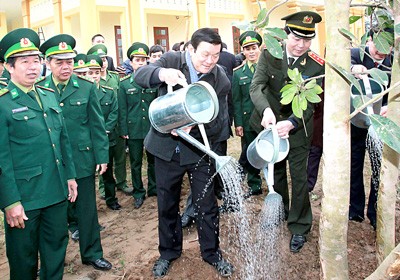 President Truong Tan Sang (2nd from R) also launches the Tree Planting Festival in Border Guard post in of Kim Son District(Photo:SGGP)
Addressing the ceremony, President Sang stressed the importance of planting trees and protecting forests amidst increasing global warming, climate change and rising sea levels that are threatening people's livelihoods.
He called upon the entire Party, army and people to take part in planting trees and forests in an effort to protect the environment, making it a fine tradition of the Vietnamese people during Tet festival season.
In 2011, the country planted an additional 212,000ha of forest, increasing forest coverage to 40 percent from 32 percent in 1998 and contributing to promoting socio-economic development and maintaining national defense and security.
The success of the current national industrialization and modernization process largely relies on agricultural production, said State President Sang.
On this occasion, the President burnt incense at the temple of General Nguyen Cong Tru in Kim Son District and at the temple of leader cum scholar Truong Han Sieu in Ninh Binh city.