President Nguyen Minh Triet called on the officials of the Procuracy to assure that the innocent were not treated unjustly, and that no criminal would go unprosecuted.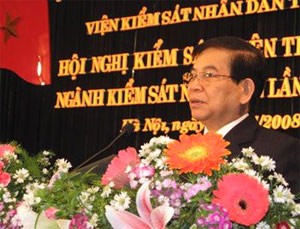 President Nguyen Minh Triet speaks at the first conference of exemplary procurators on April 2
He made the statement at the first conference of exemplary procurators, held by the Supreme People's Procuracy yesterday in Ha Noi.

The President congratulated 156 exemplary procurators nation-wide who have made excellent achievements.

He said one of the most important tasks of the procurators was to raise the quality of industrial proceedings during court trials.

Procurators must not treat the innocent unjustly, and they must not overlook any criminal, he said. To achieve this, the procurators must always hold by their political outlook and virtue, carrying out their responsibilities and exhibiting a thorough understanding of their role, the President said.

President Triet, who is head of the Central Steering Committee for Justice Reform said the procuracy sector and the justice offices were still far from meeting the demands of current jurisprudential realities.

He said justice reform was still being slowly implemented and that the professional competence of a number of officials was still limited, with a few such officals even violating the law.

He asked the procuracy sector to boost implementation of the movement to "Study and Follow President Ho Chi Minh's Teachings."

He asked the sector to boost its strategy to train human resources to meet the demands of international economic integration.

Director of the Supreme People's Procuracy Tran Quoc Vuong said the conference was a specific operation to implement justice reform and raise the quality of the procuracy. The conference also aimed at honoring exemplary staff of the sector.