President Truong Tan Sang has attended the United Nations Summit to Adopt the Post-2015 Development Agenda opened at the UN Headquarters in New York on September 25 (New York time), during which he affirmed Viet Nam's strong commitment to successfully implement sustainable development goals (SDGs).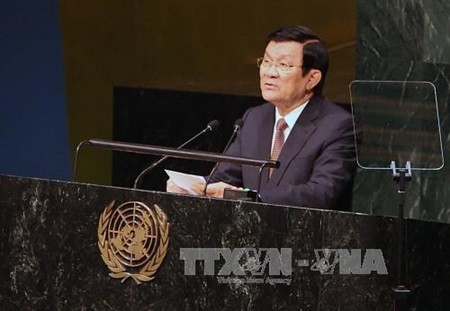 President Truong Tan Sang delivers a speech at the United Nations Summit to Adopt the Post-2015 Development Agenda. -- VNA/VNS Photo Nguyen Khang
After the opening ceremony, the summit, which drew representatives from 193 UN member countries, including over 160 heads of State and Government, adopted the document "Transforming our world : the 2030 Agenda for Sustainable Development", with the 17 goals and 169 targets.
In his statement, the Vietnamese State leader highlighted key challenges threatening peace, security and sustainable development, especially hunger and poverty, epidemics, social injustice, depletion of natural resources, environment degradation, climate change, conflicts and crises.
He stressed that the 2030 Agenda presents a new strategic vision that reflects the aspiration of humanity to live in a world of peace and prosperity, adding that it creates a framework and sets the direction for all nations to collectively respond to common challenges, in the three pillars of economic, social and environment.
Viet Nam commits to doing its best to ensure its successful implementation of the 2030 Agenda, the President affirmed.
He also highlighted the country's key messages, stating that maintaining peace and security on the basis of respect for international law is a precondition for the successful implementation of the SDGs, successful implementation of the 2030 Agenda requires strong political will and full and effective mobilisation of domestic resources, and it is imperative to strengthen the global partnership for sustainable development.
The President informed about Viet Nam's efforts to realise the National Strategy on Sustainable Development for 2011-2020, which focuses on accelerating economic restructuring, guaranteeing social equality, preserving natural resources, protecting the environment and responding to climate change.
Viet Nam and other ASEAN member nations are working together to build an ASEAN Community by the year-end, the Vietnamese leader said, adding that ASEAN and its partners are engaged in common efforts to maintain and consolidate peace and security in the region.
He reiterated Viet Nam's consistent policy to resolve disputes in the East Sea by peaceful measures on the basis of respect for international law, including the 1982 United Nations Convention on the Law of the Sea, effective and full implementation of the Declaration on the Conduct of Parties in the East Sea (DOC) and early conclusion of the Code of Conduct (COC).
In conclusion, he expressed his hope that the 2030 Agenda will be implemented for the interest of all peoples of the world, for a safer and better life for the children of today and tomorrow. Viet Nam will made positive and responsible contributions to the process, he affirmed.