Vietnam has an open door to welcome foreign investors and the State and Government will do their utmost to create a favourable environment for investors, President Nguyen Minh Triet said on Nov. 13 during his reception of a delegation from the Asia Business Council (ABC).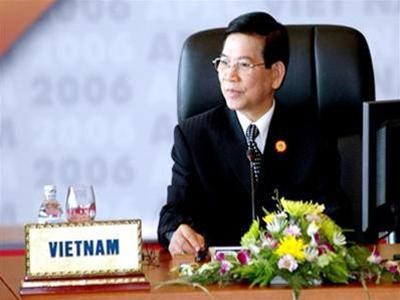 File photo: Vietnamese President Nguyen Minh Triet
Speaking with the council's members, who are all CEOs of large groups and companies that have made long-term committments to development in the Asia-Pacific region, President Triet appreciated the fact that Hanoi was chosen by the ABC to host its annual conference from Nov. 13-15.
"This is a good chance for Vietnamese businesses to learn and gain experience and to introduce images of Vietnam to the world," he said.
Answering the visitors' queries on the impact of the global financial crisis in Vietnam , President Triet said that Vietnam has undertaken serious considerations to discover areas of weakness, and has applied a range of solutions that have demonstrated their effectiveness in stabilising the economy.
According to him, the country's economy has maintained stability and inflation has been brought under control. The country's nine-month industrial production value recorded a year-on-year increase of 15.8 percent and export turnover has increased by 30 percent. These figures have helped to strengthen investors' confidence in Vietnam and this has been manifested through the fact that total foreign direct investment capital so far this year stands at around 60 billion USD.
Regarding the role played by education and training in the country's development, President Triet said Vietnam has put the issue at the top of its priorities and each year allocates 20 percent of the State budget to this sector.
Vietnam now has about 400 universities and colleges, and has been expanding its educational cooperation with numerous other countries.
He also stressed that Vietnam has been gradually introducing fresh blood to its management staff in order to meet developmental demands.
On behalf of the ABC delegation, ABC's President N.R. Narayana Murthy said Vietnam's economic developments over recent years have attracted the attention of almost all members of the council, and as a result, the council decided to hold its annual forum in Vietnam, even though the country has no ABC members.