President Truong Tan Sang on February 13 made a Lunar New Year visit to the Mekong Delta province of Dong Thap and inquired into the building of new rural areas in the locality.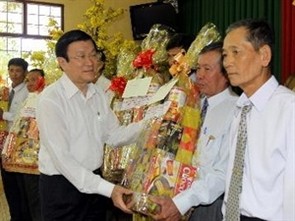 President Truong Tan Sang presents Tet gifts to prominent residents in Dong Thap on Feb. 13, 2013.
The President visited Hoa An commune, an exemplary new rural area in Dong Thap, and underscored the role of people in making the National Target Programme for New Rural Areas a success.
He said relevant agencies need to help local people fully understand the real benefits they can reap from the programme, and persuade them to directly monitor facilities to be built for them.
The President urged local people to be creative in implementing the programme using the orientations provided.
At a working session with provincial leaders, he was informed that from 2011-2012, street lighting was erected on more than 200 kilometres of rural roads, over 200 bridges were built or repaired, and thousands of dilapidated houses were rebuilt.
All communes in Dong Thap have health clinics, which are run by doctors, and 87 percent of households have access to clean drinking water.
On the day, President Sang paid tribute to Nguyen Sinh Sac, the father of the late President Ho Chi Minh, at his tomb.
He presented Tet gifts to ten farmers in Hoa An commune who excelled in the new rural area building programme.