President Truong Tan Sang on March 23 made a fact-finding visit to Nghi Lien commune in Vinh city, the first locality awarded the title of culture village in central Nghe An province.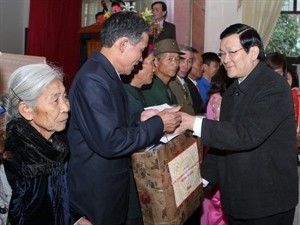 President Sang (R) presents gift packages to farmers in Nghi Lien commune (Photo: VNA)
The state leader praised remarkable achievements by the local authorities and people in the movement of new-style rural area building, expressing his hope that Nghi Lien will be developed into a model in the field in the future.
Nghi Lien fulfilled 17 out of 19 criteria for new-style rural areas, and it is striving to reach all the 19 ones in 2014. As many as 68 percent of local households are rich.
Over the last three years, people in 19 hamlets donated 16 billion VND (752,000 USD), 65,000 workdays and thousands of metres of land for constructing and expanding roads.
Models of planting flowers, ornamental trees, and vegetables were developed strongly in the commune, contributing to improving living conditions for local people.
The same day, President Sang visited the High Command of Military Zone 4, which always stands side by side with the local authorities in promoting socio-economic development and ensuring defence and security.
Speaking highly of the High Command in implementing its tasks, the state leader asked it to do well the defence and foreign work in the locality in face of increasingly complicated situations in the region and the world