President Truong Tan Sang visited Ly Son island district – homeland of the Hoang Sa (Paracel) flotilla soldiers, in the central province of Quang Ngai on February 22.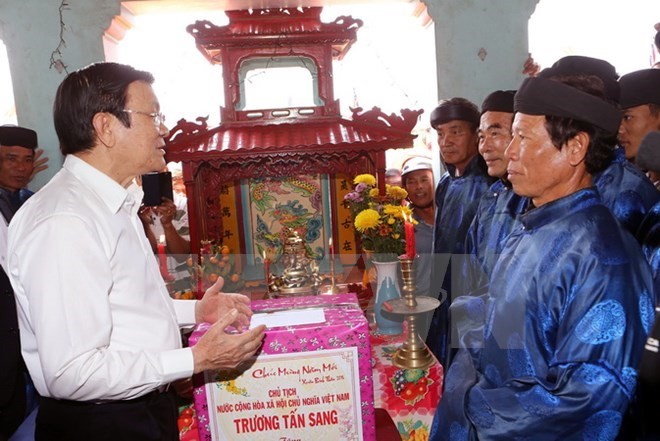 President Truong Tan Sang (L) (Source: VNA)
In the Hoang Sa tomb relic complex, the State leader offered incense to the soldiers who laid down their lives to safeguarding national sovereignty.
He later visited a technical scout force of the Navy High Command, presented gifts to 20 poor households and learned about a cultivation model in An Hai commune.
The communal authorities updated the President about the local socio-economic development, saying that An Hai is currently home to nearly 8,000 people, 60 percent of them live on fishing with a total fish catch of 17,000 tonnes per year.
Fishermen at the event appealed for more State support in shipbuilding, environment protection and relic restoration.
The President expressed delight at his second visit to the island district and asked local authorities to pay attention to sustainable planning and provide further assistance for fishermen.
During a working session with the provincial authorities, the State leader suggested seeking the right ways to make economic breakthroughs, persisting with major projects in oil refinery, industrial infrastructure, sugarcane and tourism, reshuffling production and facilitating the private sector.
The province owns more than 5,480 vessels with a total capacity of 934,000 CV, and has 10 fisheries trade unions with 6,000 members. Last year, the total aquatic output surpassed 167,500 tonnes and more than 40,000 jobs were created.