The staff of the Central Vietnam Women's Union and others must build and develop the organization into a common house for all Vietnamese women, President Nguyen Minh Triet told listeners during a visit to the union's office in Ha Noi yesterday.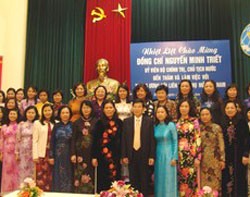 President Nguyen Minh Triet and members of the Central Vietnam Women's Union at the union's office (Photo by Vietnam Women's Union)
At the end of 2007, the union had extended loans worth over VND13,000 billion to more than four million poor women, Ms. Nguyen Thi Thanh Hoa, the union's chairwoman, told the President.

Most of the lenders had successfully conducted their businesses and therefore managed to repay their debts, Ms. Hoa added. Ninety-eight percent of loans were paid back, she reported.

Addressing the meeting, President Triet lauded the role and contributions of the union as well as the role the women nationwide in promoting the cause of national independence and freedom in the past and in ongoing reforms.

The union should speed up popularize, mobilization and education activities to raise the women's awareness of their role, position, responsibilities, rights, and interests in the society, Mr Triet said.

The union should take initiative in adjusting the content of its activities so that they can catch up  the country's social changes in the reform period, he added.

The union should promote such movements as "Women study, work and build happy families" and "Study and follow Ho Chi Minh's moral example" to build and develop itself into a strong organization with activities throughout the country - a  common house for all Vietnamese women,  the President emphasized.

The party and the state will create favorable conditions for the union's staff and for Vietnamese women to study, work and develop, he continued.

The union must work with the party and with relevant authorities to solve current social problems involving women including Vietnamese women marrying foreign husbands, women and children in trafficking, sexual inequality, employment, drugs and prostitution, family violence, life of women living in remote areas and the life of ethnic minority women, the President said.