The President's Decision on Amnesty was announced at a press conference in Hanoi on August 28 on the occasion of the 70th anniversary of the August Revolution (August 19) and National Day (September 2).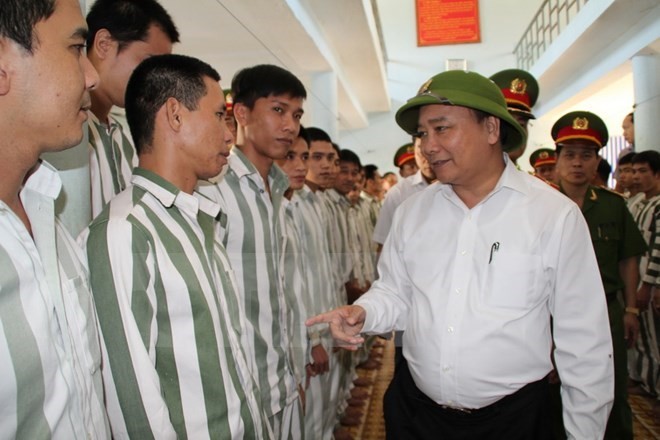 Deputy Prime Minister Nguyen Xuan Phuc meets prisoners in Xuan Loc prison in the southern province of Dong Nai (Photo: VNA)
Accordingly, 18,298 inmates serving jail terms and eligible for amnesty according to State law are set to be freed ahead of their scheduled release dates, whilst 241 others whose sentences have been delayed or suspended are being pardoned.
The decision will take effect on August 31, ensuring publicity, transparency, equality and democracy.
Standing Vice Chairman of the President's Office Giang Son said the Vietnamese Party and State have granted a number of amnesties to prisoners performing positive rehabilitation to reintegrate into the community as well as those whose sentences have been delayed or suspended.
The policy of the Vietnamese Party and State is to strictly punish any violations in combination with clemency, which aims to rehabilitate offenders to become useful members of society and abide by State law, he said.
The President's decision once again confirms the clemency policy of the Party and State and demonstrates the humanitarian tradition of the nation.
Amnesty is also a way to recognise positive rehabilitation as the result of close coordination between enforcement agencies, families and the whole society.
Son assured that the Vietnamese Party and State's amnesty policy does not discriminate or have any limitations for inmates. Whether the prisoners are Vietnamese or foreigners, as long as they meet sufficient conditions of the Vietnamese law, they will be considered for the policy.
According to Deputy Minister of Public Security Le Quy Vuong, 34 inmates of seven foreign nationalities are eligible for the President's 2015 amnesty decision, including six from Laos, one from Cambodia, one from Thailand, two from Australia, 16 from China, six from Malaysia, and two from the Philippines.
The average sentence reduction for each pardoned prisoner this year is 620 days, Vuong noted.
Between 2002 and 2012, 82.26 percent of freed prisoners had stable jobs with income ranging from 3-6 million VND (135-270 USD) per month.
The rate of relapse among pardoned inmates within the decade was a mere 3.03 percent on average, which is likely to reduce to below 1 percent.
On August 31, detention camps across the country will announce the President's amnesty decision.
Localities are requested to provide vehicles and necessities to help freed prisoners reunite with their families.